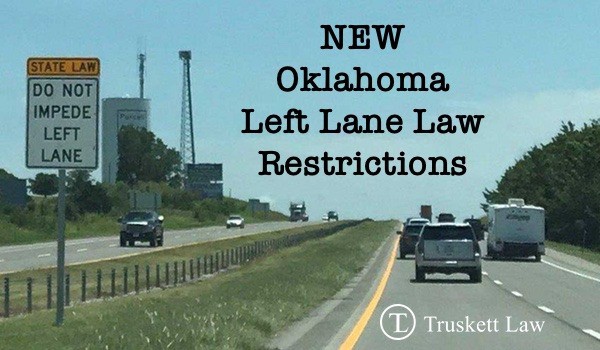 12 Oct

Oklahoma Left Lane Law Restrictions Begin In November
Beginning November 1st, Oklahoma drivers will see new restrictions on driving in the left lanes of divided highways with four or more lanes.
The new restrictions are a result of House Bill 2312 which states, "a vehicle may not be driven in the left lane except when overtaking and passing another vehicle, other than in situations where traffic conditions or road configurations require the use of the left-hand lane in order to maintain state traffic conditions."
Many surrounding states already have similar laws restricting travel in the left lanes.
If violated, drivers may receive a $235 ticket.
New signs have been added along I-35 and I-40 that say "slower traffic keep right" and "do not impede left lane."
The Oklahoma Highway Patrol said, however, that some high-volume traffic areas may require all lanes to be occupied.
OHP Chief Ricky Adams said there's no reason to cruise in the left-hand lane, but also stressed that the new restriction doesn't mean drivers can speed when passing.
"This is not a reason to hang out in the left lane. If you are driving in the left lane and a vehicle is behind you, you need to move to the right as soon as it is safe and feasible to do so. And although the left lane may be used to overtake slower-moving vehicles, that is not an excuse to exceed the speed limit when passing," Adams said.
Drivers are also asked not to drive slowly to prevent others from speeding. Officials say everyone is expected to obey speed limits and all traffic laws.
You can read the full version of House Bill 2312 here.