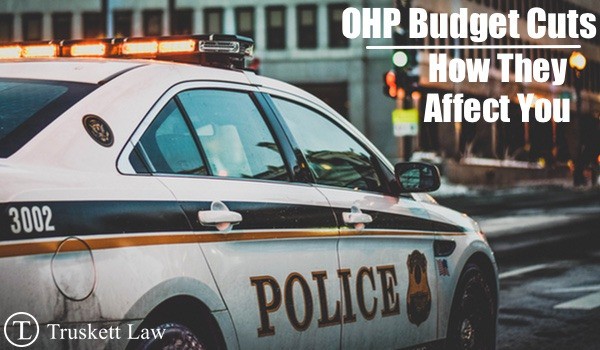 20 Mar

OHP Budget Cuts – How They Affect You

As lawmakers are working to fill an almost $900 million budget hole, agencies across the state are preparing for drastic cuts.

On March 7, the Department of Public Safety was asked to compile a list of the impact a nearly 15 percent budget cut would have on the agency. This was part of their response:
"The OHP is the only state law enforcement agency with a permanent presence in all of Oklahoma's 77 counties, to proactively prevent crime and traffic deaths. Troopers routinely protect Oklahomans from 'things that go bump in the night' as we carry out a wide range of mission demands. Those missions range from traditional traffic and commercial motor carrier enforcement, patrolling our waterways, providing statewide air support, antiterrorism efforts, bomb team capability, dealing with natural and manmade disasters, providing forces to quell riots and civil disturbances, the interruption and interdiction of criminal activity, conducting many types of criminal investigations, protecting the Governor and securing the capitol complex, and tracking down many of the state's most dangerous criminals. Which of these missions do we abandon?" Oklahoma Highway Patrol Chief Rick Adams said.
If the agency has to cut its budget by 15 percent, officials say troopers will be furloughed, a hiring freeze put in place and employees will likely lose their jobs.
Officials say the cut would also stop an upgrade to their computer networks, which will affect the rollout of the REAL ID Act.
Mileage restrictions will deepen, and the OHP Academy will have to be delayed until 2019.
"A budget cut this significant is unsustainable for DPS/OHP," said DPS Commissioner Michael C. Thompson. "The department exists to help protect the public, and this cut makes our mission incredibly challenging."
What Does This Mean for You?
OHP Officers having daily mileage limits could mean less surveillance and higher safety risks in un-patrolled areas.
Furthermore, Chief Ricky Adams said it will take longer for a trooper to respond to a call if it isn't an emergency.
Adams says the difference between success and failure is razor-thin: a prime example is the Michael Vance manhunt. If the OHP hadn't been able to quickly move troopers all over the state, things could have gone differently.
"We bring ourselves to be passionate protectors of Oklahoma's public. That's why it's an important deal to us," Adams said.