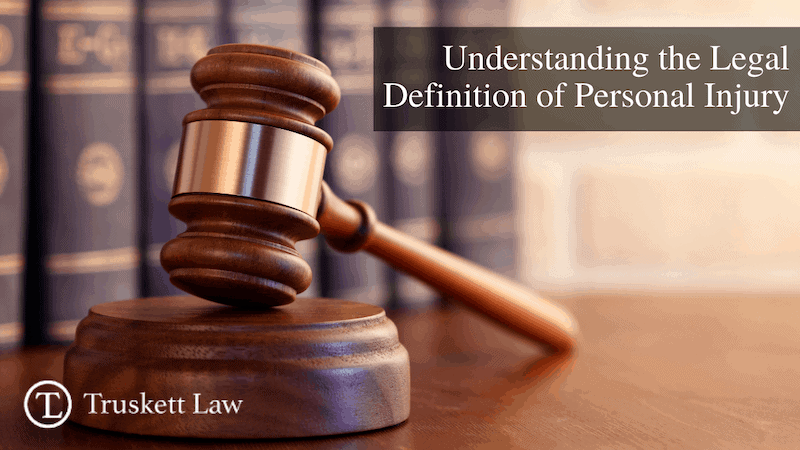 01 Dec

What Is The Legal Definition Of Personal Injury?
The Legal Definition of Personal Injury
Each year, thousands of Americans are injured in various types of accidents. But not all accidents are equal or fit the description of a personal injury case. Personal injuries are a result of an accident that was caused by the negligence or wrongful actions of others. However, to be able to take your case to court, it'll need to meet the legal definition of a personal injury. You may have been involved in an accident and want to seek compensation. But how do you know if the injuries you've sustained are defined as being personal injury?
What's the legal definition of personal injury? Personal injury is the legal term for an injury to an individual's mind, body, or emotions instead of property. It is used to refer to a type of tort lawsuit in which the plaintiff has suffered harm to his or her body or mind. Personal injury lawsuits are filed against the entity or person that caused damage through negligence, reckless conduct, gross negligence, or intentional misconduct. Personal injury law is also known as tort law.
It's important to note that different jurisdictions define the damages, things the plaintiff could potentially be compensated for, differently. Typically, injuries include the plaintiff's diminished quality of life, pain, and suffering, and medical bills.
Unlike other law areas, the development of personal injury law has occurred mostly through court decisions and treatises written by legal scholars. Many states have summarized the development of personal injury law by writing statutes. However, for practical reasons, court decisions remain the primary source of the law in legal cases regarding injuries resulting from an accident.
Types of Personal Injury Claims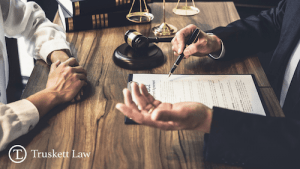 A variety of accidents can lead to personal injury claims. Common types of personal injury claims include, but are not limited to, work accidents, road traffic accidents, tripping accidents, product defect accidents, and assault claims. Personal injury claims can also include medical and dental claims. You must seek a legal professional to understand if your case qualifies as a personal injury case. A list of personal injury claims that Truskett Law deals with includes:
Understanding Negligence or Liability
If you are injured in an accident, you'll have to prove that the other party was negligent in holding them liable. Generally, when someone acts carelessly or recklessly, which results in harm to another person, their actions may be considered negligent. As a victim, you must be able to prove that the conduct of the defendant meets the qualifications of negligence. Four parts make up a negligence claim that you'll have to prove.
First, there must be a duty to uphold by the defendant. You'll have to prove that they have a legal duty to you under the circumstances. This can vary depending on the type of case. For example, a property owner must keep the premises safe for those present on their properties, but this varies depending on the establishment, the type of visitor, and a visitor's age.
Second, you must be able to prove that the defendant's actions breached their duty. This can be shown through their actions or failure to take action. Their efforts, or lack thereof, will be compared to the reasonable response under the circumstances from a reasonable person. If a sensible person would have known that their actions or failure to take action would result in another person's injury, a breach will be found. A breach of duty can be very case-specific.
Third, you must be able to prove causation. Causation would mean that you verify that the defendant's breach caused your injury due to an accident. Usually, your injury must have been reasonably foreseeable. The breach must also be a proximate or direct cause of your injury.
Finally, the harm is the last part you'd need to prove. You must be able to show damages. Generally, injuries include economic elements like medical bills and non-economic elements like pain and suffering. Regardless of the extent or type of damages, the only compensation you can legally seek is a monetary payment.
Evidence Needed for Personal Injury
When you build your personal injury case to support your claim, you'll want to gather as much evidence as possible. Generally, this includes accident reports, medical records, photographs or videos of the scene, employment records that show lost wages, physical evidence of injury or damages, injury or damages, witness statements, insurance policy information, and a pain journal.
When you are injured in an accident, seek medical attention immediately. From your medical visits, you can gather your medical documents as evidence. These include hospital records, medical bills, emergency room records, autopsy records, receipts for medical bills, psychology records, and physical therapists. You can also gather reports like police reports as evidence.
Photos, videos, and audio of the scene, your damages, and your injury are extremely helpful in proving negligence. You should ensure that you store and backup your videos and photos. You can also gather physical evidence to make a strong case for yourself. This type of evidence can be touched or seen. Physical evidence can often be the most helpful in less complicated cases to help determine fault.
You can also keep a journal to document the way your daily life has been altered. These can display your pain and suffering where medical records may fall short. By keeping a detailed journal, you're able to compare how your daily life was altered compared to your life before the accident. You can document mental, emotional, physical, and other differences. You can include photos, how you feel, and any medical appointments in your journal.
Damages in Personal Injury Cases
Various damages can be recovered if your case meets the legal definition of personal injury. An attorney can help to evaluate and analyze your case and your injuries to value your claim, provide you a range of values for settlement, and walk you through a personal injury case. The types of damages that can be recovered depend on many things, so it's best to have a legal professional walk you through what is recoverable. Potential damages that may be recoverable include:
Past and future medical expenses
Lost wages or lost income
Losses in your ability to earn a living
Losses in your ability to enjoy life
Pain and suffering
Mental anguish or psychological injury
Losses for permanent disfigurement or scarring
Statute of Limitations
It's crucial that you understand that there is a limited time in which you can file a claim called the statute of limitations. Usually, this time frame begins when the plaintiff is injured or discovers the injury. Within that timeframe, you should find an attorney to represent you. Once a claim has started processing, you are no longer limited to the timeframe. The statute of limitations is established by state law and often varies depending on the type of injury.
Experienced Personal Injury Legal Counsel
When it comes to any legal case, whether it's personal injury or not, it's best to have the advice and counsel of an experienced legal professional who has met all of the required qualifications. Any case can be overwhelming or complicated, so having a seasoned professional to lean on helps you gain more confidence when pursuing compensation.
They can help you understand your case's facts, walk you through the processes, and help you better understand the law. If an injury has impacted you, then you may be entitled to compensation. You can learn more by contacting Truskett for more information.
Choosing a Great Personal Injury Lawyer
If you find yourself in need of a personal injury lawyer, we can help you every step of the way through your case. We have over a decade of experience in personal injury law and are proud to serve the Tulsa community. Truskett covers a wide variety of personal injury cases. We provide our clients with fair and honest representation. Our clients are our highest priority, and we make ourselves available when you need us. We understand how essential it is that you know your rights and have clarity in decisions. That's why hiring Truskett lawyers is the best choice when it comes to personal injury lawyers. We have your best interest at heart. Don't risk it. Call Truskett.