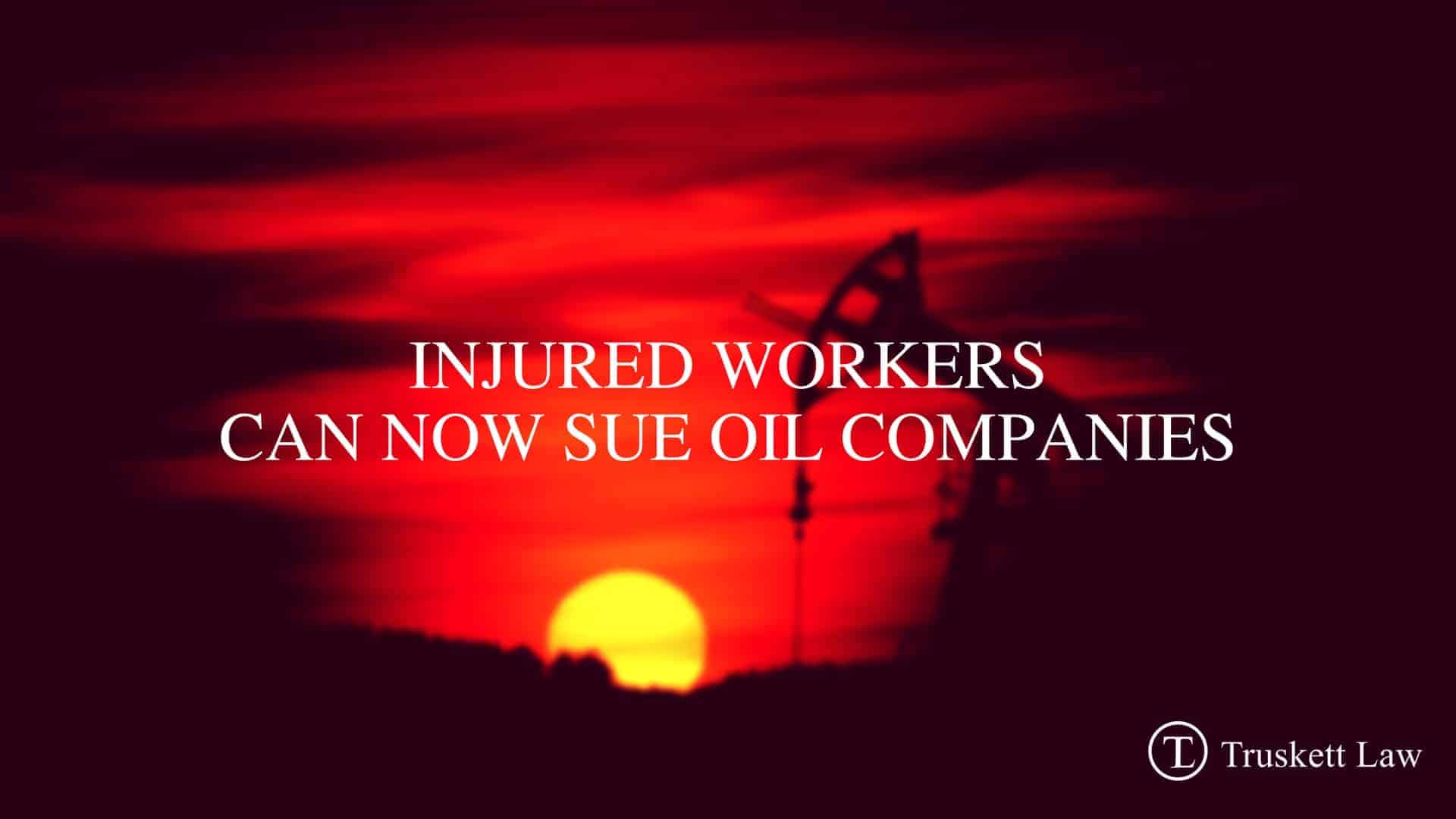 25 Mar

Injured Workers Can Now Sue Oil Companies
Supreme Court Protects Oil Field Workers
Oil-field workers can now sue well operators for injuries suffered on a drilling rig. That is, now that the Oklahoma Supreme Court said that a portion of the state workers' compensation law was unconstitutional. That clause stated that oil and natural gas well operators couldn't be sued for such injuries.
The shock is that these companies have been exempted for so long. Until now, well owners and operators could only be sued in workers' compensation court. In Oklahoma law, however, they were protected from any civil litigation.
Oklahoma's Supreme Court Decision
But on March 13 of this year, the court ruled unanimously that this was "an unconstitutional special law." In their ruling, they stated that "it shall be severed from the remainder" of the statute. The decision was 8-0, with one recusal.
This month's court action follows a similar decision from January of this year. Another law with similar language also exempted well owners from civil action. Again, the law only allowed injured workers to sue in workers' compensation court.
Worker's Compensation vs. Civil Court
But what's the difference between workers' compensation and civil court? In workers compensation court, an injured worker is limited to lost wages and disability. But in a civil action, the court can award damages to help make injured workers' lives better.
Without an award from civil court, there' no way for victims to receive much of what they might need. Vehicles, mobility assistance, and other considerations may be very costly. In many cases, workers are permanently disabled. They may need much more than workers' compensation provides.
Injured Oil-field Worker Sues Oil Companies
In the case, Frank Benedetti sued Cimarex Energy Company and Cactus Drilling Company. While working on an oil rig near El Reno, OK, he slipped on an icy platform. He then fell about 37 feet down a stairwell. This left him with permanent severe injuries. The accident happened in December of 2013.
Cimarex was the well operator for $75,000 for negligence. He said that the companies created dangerous icy conditions on the platform. Apparently, steam sprayed on the pipes below the platform caused ice to form. No warnings were posted. Therefore, workers were vulnerable to slipping as Benedetti did.
After the suit was filed, Cimarex tried to have the case dismissed. Why? Because of the unconstitutional law. The trial court agreed, and so did the appellate court.
Oklahoma's Law Ruled Unconstitutional
But not the Supreme court. They were very decisive in their action. Recognizing that the law clearly protected oil companies, they ruled the law unconstitutional. As for Benedetti, his case has gone back to trial court. The suit is still pending. But his chances are certainly better now.
So Cimarex actually has its own lawyers to thank for drawing the court's attention to the problem. And assuming Benedetti wins, Cimarex will have to pay on both sides. And they'll have to watch themselves more closely from now on.
Holding Oil Companies Accountable
But not only that, all Oklahoma oil companies will be held to a higher level of accountability. It's not right when laws favor large corporations. Laws should be equitable and protect the people, and most do. But two unfair laws in Oklahoma's workers' compensation statutes have been exposed this year.
Tulsa Oil-field Injury Lawyer
At Truskett Law, we believe oil companies should be held accountable. If you've been injured at work, either on an oil rig or in a warehouse or office, call us. You could try to work it out for yourself, but as we say often: "Don't risk it–call Truskett!" We will work for you! Your call and your consultation are always free and confidential. Call 918-392-5444 today!
Photo by Zbynek Burival on Unsplash