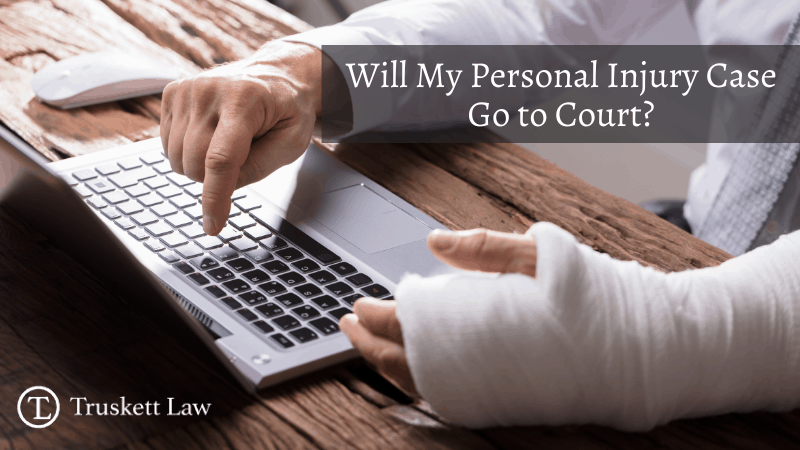 05 Apr

Will My Personal Injury Case Go to Court?
Will Your Personal Injury Case Go to Court?
If you've been involved in an accident that resulted in a personal injury, it can alter your daily life in a big way. After you're in a personal injury accident, you can easily feel overwhelmed, and you may be left with many questions. If you speak with a personal injury attorney, you may wonder if your personal injury case will go to court. What does the process of a personal injury lawsuit look like? How involved are you in a personal injury case? Is going to court your only option, or are there other alternatives to settle a case? Truskett Law is here to answer all of your personal injury questions.
If you've been injured in an accident, will your personal injury case go to court? A majority of personal injury cases don't go to trial. Your case will probably not go to trial. Less than 5% of personal injury cases go to trial. The other 95% are settled before going to court. Therefore, most lawsuits can be resolved before ever making it to the courtroom.
Often, going to trial isn't beneficial to either party. If you are dealing with an insurance company, they'll probably want to settle outside the courtroom. Settlements usually mean that you get your money more quickly and can avoid the risk of getting nothing if you lose your trial. Settlements are also private, unlike trials.
Benefits vs. Disadvantage of Going to Court
If your case does end up going to court, there are a few benefits you should know about. At a trial, you may win more damages than you were initially offered as a pre-trial settlement. However, there's also the chance that you may lose at the trial with no compensation. You could also end up receiving a verdict for less than the defendant's pre-trial settlement offer. In a settlement, you can negotiate with the other party for fair compensation.
Benefits of Settling
Often, it's easier and more convenient to settle outside of the courtroom. You must speak with a legal professional who can help you receive the appropriate compensation. They can help you settle without going to court and help you if your case does end up going to trial.
Here are a few benefits if you decide to settle instead of going to trial:
Guaranteed Monetary Compensation: It's possible to secure more damages in a trial than in a settlement, but this isn't guaranteed. At a trial, the judge could decide against you, which could leave you with nothing. What you receive in a settlement is often the exact amount you'd receive from a trial.
Quick Payout: Settlements are often much faster compared to trials. Trials take up a lot of time, with the process taking months to even years to resolve. Trials can also make you focus and relive any trauma you may have suffered for an extended period. By settling, you can use more of your time to recover rather than focusing on the past.
There's Less Risk in Settling: Of the trials that go to court, roughly 10% rule in favor of the plaintiff. If you file a claim against an insurance company, the jury may be swayed in favor of the defendant.
Lower Costs: The longer a case is at trial, the more court costs and attorney fees accumulate. Any sort of legal matter can be costly. If you don't end up winning the trial, you may even be made to pay the court costs for the other party.
What Can Affect a Settlement?
Several factors can influence a settlement offer, including:
The extent of the injuries suffered
The cost of treatment
Future medical expenses
Your income and earning capacity
Lost wages, property damages, and other damages
Your family situation and your age
How sympathetic you'd be to a judge or jury, and
Jurisdiction, precedence, and community norms
When to Pursue a Trial
There may be an opportunity where you want to pursue taking your case to court. Most commonly, if the other party offers you an unfair settlement, you may want to try going to court. Going to trial may be the only option to get the proper compensation, especially if they don't offer a settlement at all. In some cases, if you can't agree, that is enough to begin the process of going to trial.
How Long Will a Claim Take to Settle?
Personal injury claims are often varied, which can make it difficult to nail down a timeline for a settlement. The duration of a claim varies depending on the facts of the case. Some claims can be settled within a matter of months. Others may take longer–up to or over a year. The best way to know how long your claim may take to settle is to talk to a professional lawyer about your situation. They'll have a better idea of how long it could take to settle once they know the facts of your case.
Personal injury claims can take time due to the number of steps necessary to ensure the appropriate compensation.
Having an Attorney Who Will Fight for You
If you've incurred damages or injuries, you'll want to find a personal injury attorney as soon as you're able. They'll be able to assist you in settling, finding compensation, and walking you through the legal process of going to court if necessary. You'll want to have an attorney who's on your side and willing to walk with you every step of the way. With any legal proceeding, you need someone you can lean on and trust.
You must have a personal injury attorney who is willing to fight for you. Not every lawyer is an experienced trial lawyer. You want to have the best representation possible in case your claim ends up going to trial. Finding a legal professional who is passionate about advocating for you and your situation is critical. That's one of the best things about Truskett. We're passionate about advocating for you and seeking the compensation you deserve!
When you pick someone to represent your case, you'll want to ensure that you choose one that genuinely cares about you and for your long-term wellbeing. Some care more about the value of your case rather than your welfare. When you meet with attorneys, use this time to determine if the law firm fits your intentions. You can use this time to also set expectations for communication.
Filing a Personal Injury Claim
After an accident, you should always seek immediate medical attention if it's needed first. If you, and anyone else involved, don't need immediate medical attention, gather as much information as possible. Document as much of the accident as you can through photos, notes, writing down information, compiling witness statements, police reports, and other medical documents like bills or records. Other evidence you can compose includes employee records to show lost wages, pain journals, and insurance policy information.
Luckily, you don't have to try and piece together all of the evidence yourself. That's where a trusted, experienced personal injury lawyer comes in. You don't have to have all of your ducks in a row before talking to an attorney. You can consult with them to see what they best recommend. They can help to determine the evidence that will best support your case and give you an estimate for how long your claim may take to process.
After you gather as much information and documentation as needed, your attorney will help negotiate on your behalf. A lawyer is an excellent legal professional who should advocate for you. If litigation isn't possible, your case may go to trial as a personal injury lawsuit. A scheduling order and trial date will be put into place. Your personal injury lawyer will help to prepare you for the trial. Your personal injury attorney must be competent and experienced because of the legal process's complexities and involvement.
Personal Injury Lawyers Working for You!
Truskett Law understands the difficulties of being injured in an accident and will help you walk through the legal process, whether or not your case goes to trial. We can help to evaluate your case and give you an estimate on if your case will go to trial or if it's possible to settle without going. We focus on personal injury, car wreck injury, semi-truck crashes, surgical injuries, property damages, wrongful death cases, catastrophic cases, insurance disputes in Oklahoma, nursing home negligence, unintentional falls, pedestrian injury, defective products, injuries from animals, and birth injury.
Truskett cares and wants to ensure that you have the appropriate advocacy. If you are unsure if your case is a personal injury case or if you are wondering if your case will go to trial, contact Tulsa's #1 personal injury law firm! We can help to give you the care and compassion that you deserve, guiding you throughout your case with expertise, proficiency, and authenticity. We sincerely care about you and your case.
Don't risk it. Call Truskett.