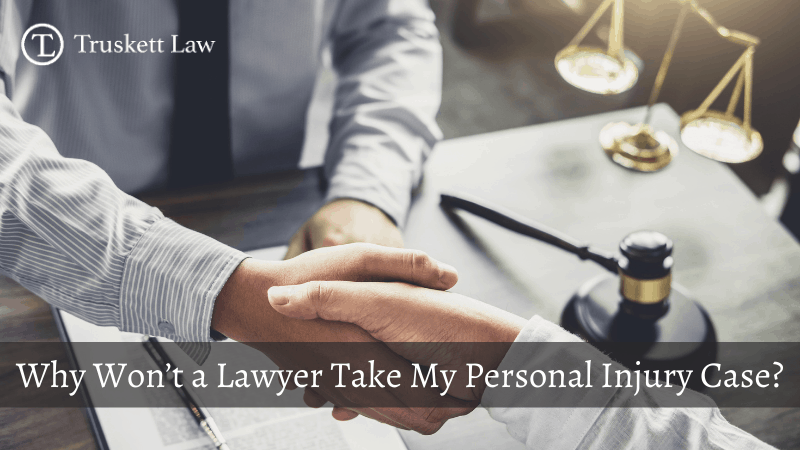 27 Jul

Why Won't a Lawyer Take My Personal Injury Case
Reasons a Lawyer Won't Take a Personal Injury Case
Personal injury cases can be tricky, but finding a personal injury attorney to take your case can be even tougher. You may even find that a personal injury lawyer could refuse to represent you. When you've sustained a personal injury, this can be highly frustrating and feel like the last thing you want to worry about. So, what are some reasons a personal injury attorney wouldn't take your personal injury case? The lawyers here at Truskett Law are here to answer your questions and help you know what you can do in this situation.
So, why won't a lawyer take my personal injury case? There can be a lot of reasons a personal injury attorney refuses to handle your case. If a lawyer has declined to take your case, you can always ask them why they are turning down your case. If you've only talked to one lawyer and they've rejected you, there may be more personal reasons they've refused. They could be busy, or they even may not be experienced in personal injury.
If multiple attorneys have declined, it could be for various reasons. Below, we'll go through the reasons an attorney could refuse to take on your personal injury case.
Statute of Limitations
The standard time limit on personal injury lawsuits in Oklahoma is two years from the date of the incident. If you attempt to file a lawsuit after the statute of limitations, the court may throw your case out without adequately considering it. The full explanation of Oklahoma's statute of limitations for personal injury lawsuits is in Title 12, Ch. 3, Sec. 95 of the Oklahoma Code.
Conflict of Interest
Sometimes a personal injury lawyer could be representing the other side or the person you want to sue in another case. Also, if you find that a lawyer's values or interests don't align with your own, keep in mind that you may not want them to represent you.
You also have the right to choose who legally represents you. Consulting with an attorney before either you or they choose one another is essential. That meeting allows both of you to see if you're a good fit for each other. Think of it as an interview you both conduct to see if there's any conflict of interest or other issues.
Schedule Conflict
Sometimes, an attorney is simply too busy to be able to take on your case. But, if that's the case, they should refuse to represent you so that their attention isn't divided between you and whatever else is taking their focus. You want to have a personal injury lawyer who will be entirely focused on your situation rather than being too busy to look at your case properly.
If this is the reason an attorney refuses your case, don't worry! It's not a bad thing. They're saving you future frustration and allowing you to find someone who can reasonably legally represent you.
Personal Injury is Not Their Expertise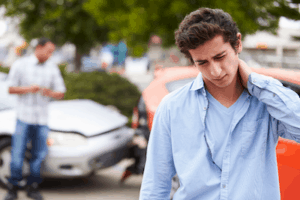 You want an attorney who is well equipped in dealing with personal injury cases. If a lawyer's expertise isn't appropriate for your case, they may refuse to take it. It's crucial that you hire an attorney that understands personal injury law and best knows how to deal with cases similar to yours.
Not every attorney has experience in personal injury. The lawyers at Truskett Law exclusively practice personal injury law and have over a decade helping Tulsans with their personal injury cases. A good attorney will not take a case if they don't have the appropriate expertise to give you the best end result.
If that is what happens, they will usually refer another attorney to you. When you meet for a consultation with an attorney, ask them if they have much experience with similar cases to yours.
Your Case is Too Small
Certain law firms will sometimes only consider more significant cases. So, if your case is too small, they'll refuse to take it, know that it's nothing personal. But that can't be determined without meeting and talking with a personal injury lawyer. They'll be able to tell you whether or not your case would be something they can take or if it wouldn't work for either you or them in the end.
You Share Too Much Fault
"Shared fault" in Oklahoma is when an injured person and the party that caused the injury or accident are both partially responsible for what happened. Oklahoma law applies a "modified comparative fault" rule to cases when there is shared fault.
Under this rule, the injured party can recover a reduced amount of damages if their fault is under 50%, but they won't recover damages if their share of the blame is 50% or more. With a fault, some attorneys won't risk the time or resources needed to take your case. If an attorney is concerned that taking your case is a risk, you may want to evaluate whether it's worth taking your case to court. If you believe that it is, find another attorney willing to take the risk.
Minimal or No Damages
If your injuries or losses are minimal or even if you were involved in an accident, but there were no damages, an attorney may refuse to take your case. Certain injuries or damages are harder to prove, like mental anguish, but that's why it's essential to find an attorney who is willing to fight for compensation for the damages you do sustain. Find a lawyer that will evaluate your case to see what compensation you could be entitled to.
Settlement is Not Guaranteed
This often applies to cases where the defendant is uninsured or even underinsured. Certain cases may have a smaller chance of reaching a settlement than others. This is another thing that you should cover during a consultation with an attorney. Before you pursue filing a claim, your personal injury attorney should help you figure out if it's worth your time.
Consulting with a Personal Injury Attorney
The best way to find out if an attorney will be the best fit for you is to schedule a consultation with them. During a consultation, they'll have questions for you, and you'll ask them questions of your own to see if you're a good fit for one another.
When you meet, the main thing you'll discuss will be the details of your case. Ask about the lawyer's experience with similar cases and their expertise in personal injury law. Allowing them to thoroughly grasp your situation, be sure to share as much information as possible, so they can have a proper understanding of what happened.
Truskett Law
At Truskett Law, we're dedicated to you and your case. We exclusively practice personal injury law and will work for you. Our team is reliable, accessible, and dependable. We offer a free case evaluation, where we'll sit down with you to evaluate your case, ask you questions, and allow you to see if we're the right fit for your case! Our clients are our highest priority. See why we're Tulsa's #1 rated personal injury law firm on Google reviews!