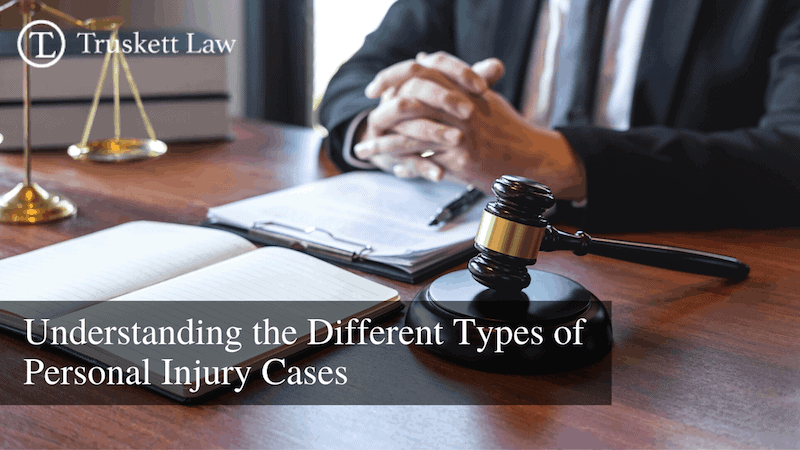 17 Jun

Types of Personal Injury Cases: Everything You Need to Know
Understanding the Different Types of Personal Injury Cases
Any type of incident or accident can lead to a personal injury case. Within a legal context, "personal injury" refers to an injury to the body, mind, or emotions. Personal injury law, a "tort" law, allows for an injured person to receive compensation when someone else's wrongful conduct causes them harm. This can include intentional infliction of invasion of privacy, injuries, negligence, financial losses, emotional distress, and many other things.
Personal injury lawsuits are filed against the person or entity that has caused harm through intentional misconduct, reckless conduct, negligence, gross negligence, and strict liability. Damages can be described differently depending on the jurisdictions, but they are typically included as the injured's medical bills, pain, and suffering, or diminished life quality.
What are the different types of personal injury cases? Common types of personal injury cases include:
Road Traffic Accidents
Work Accidents
Tripping Accidents
Assault Claims
Product Defect Accidents (Product Liability)
Medical Accidents
Dental Accidents
Toxic Torts
Wrongful Death
Defamation: Libel and Slander
Road Traffic Accidents Personal Injury Cases
A road traffic accident is when a vehicle collides with another car, pedestrian, animal, road debris, or other stationary obstacles. This can include a tree, pole, or building. These motor vehicle accidents can result in injury, disability, death, property damage, and financial costs.
Several factors contribute to the risk of collisions. These include vehicle design, speed of operation, road design, road environment, driving skills, impairment due to drug or alcohol use, and behavior. Behavior can be influenced by distracted driving, speeding, and street racing.
There are several health effects that can result from a collision. Physical injuries can be caused by blunt force trauma. These can range from bruising and contusions to catastrophic bodily injury or death. There can also be long-lasting psychological trauma as a result. This can affect an individual's ability to go to work, attend school, or perform family responsibilities.
Work Accident Personal Injury Cases
Accidents that happen in the workplace are a "discrete occurrence in the course of work" leading to physical or mental occupational injury. These can very often lead to personal injury lawsuits. "In the course of work" may include work-related accidents that happen off the company's premises and can be caused by third parties. The definition consists of accidents that occur while engaged in economic activity, at work, or carrying out the employer's business.
The results from a word related accident can include mental or physical harm, which can be further defined as injury, disease, or death. Keep in mind that occupational accidents differ from occupational diseases. Accidents are unexpected and unplanned, while diseases are contracted as a result of exposure over some time as a result of work activity.
Specific incidents that fall under occupational accidents include, acute poisoning, slips and falls on pavement or staircases, accidents onboard means of transportation in the course of work, attacks by humans and animals, insects, etc., traffic collisions, accidents in airports, stations, and so on. However, there is no determination as to whether accidents while commuting to and from work should be considered work accidents.
Tripping Accident Personal Injury Cases
A tripping accident, also known as a slip and fall, can result in injury. The injury or injuries sustained from this type of accident is a premises liability claim. This claim is based on a person slipping, or tripping, on the premises of another and suffering injury. A person who is injured by this accident may be entitled to monetary compensation.
Liability for these kinds of injuries may arise based upon a defendant's ownership of the premises where the injury occurred, their control of the premises. An example of this would be a store's liability for a slip-and-fall injury that arises inside of its premises, even though the premises is a rented property.
Property owners can defend themselves in one of two primary ways: lack of negligence or lack of fault. Lack of negligence means that the defendant may argue that they were not negligent in creating the condition that caused a person to fall, or weren't negligent in correcting the condition before the accident occurred. Lack of fault means the defendant may claim that the injured person was responsible for their injury.
Assault Claims Personal Injury Cases
Many personal injury cases are filed because of an accident that has occurred, but assault claims the action that caused harm was intentional. In assault and battery cases, the victim of the attack sues the offender while seeking compensation for injuries or damages.
Assault is defined as any intentional act that is meant to cause a "reasonable apprehension of imminent and harmful contact." In other words, assault can be considered as an action that makes the victim expect that they were going to be hurt or touched in a harmful manner by an offender. In many states, the fear of being harmed is all that is necessary for an act to be considered an assault. That is as long as it is a reasonable response to the situation. Legal requirements regarding assault claims can vary by state.
Battery's definition itself varies state by state. Typically, battery requires an offender to make intentional and harmful or offensive contact with the victim. The victim does not have to be physically harmed for battery to take place under civil law.
A defendant can defend against assault and battery cases by having a legal excuse for their conduct. This includes:
Consent- the victim agreed to the possibility of being hurt.
Privilege- a police officer has the legal privilege to use the threat of force or use real force, if necessary, and reasonable under the circumstances to carry out a lawful arrest.
Self-defense or defense of others- if faced with imminent harm to themselves or others, a person has the legal right to use reasonable force against the person who represents the threat.
Product Defect Accidents (Product Liability) Personal Injury Cases
Product liability refers to a manufacturer, seller, distributor, or retailer being held responsible for placing a defective product into a consumer's hands. If the defective product causes an injury, all of the sellers of the product in the distribution chain are liable. Affiliated laws mandate that a product meet certain expectations of the consumer.
There are different types of product liabilities. These include manufacturing defects, design defects, and failure to warn. Failure to warn is also known as marketing defects. Manufacturing defects occur in the manufacturing process and usually involve poor-quality materials or lousy artistry. Design defects occur when the product design is dangerous or useless no matter how carefully manufactured. Failure-to-warn defects happen when products possess an inherent non-obvious danger, which could be prevented by adequate warnings to the user.
Medical and Dental Accident Personal Injury Cases
Medical malpractice is when a medical or health care professional deviates from the standard in their profession, which causes injury to a patient. Medical malpractice liability is generally based on the laws of negligence. Liability occurs when a health care professional doesn't show an appropriate level of skill when providing medical care to a patient.
Legal cases based on informed consent have become more widely filed where patients claim that they were not adequately informed of risks concerning medical procedures before they agreed to treatment.
Medical professionals that may be liable include physicians, surgeons, psychiatrists, dentists, nurses, midwives, nurse practitioners, physician assistants, and allied health professionals. Allied health professionals include physiotherapists, osteopaths, chiropractors, podiatrists, occupational therapists, social workers, psychologists, pharmacists, optometrists, and medical radiation practitioners.
Acts that fall under a medical malpractice claim include the failure to diagnose a disease or medical condition properly, the failure to provide appropriate treatment for a medical condition, and unreasonable delay in treating a diagnosed medical condition.
Toxic Torts Personal Injury Cases
Toxic tort claims are when the plaintiff claims that exposure to a chemical or dangerous substance caused the plaintiff's injury or disease. People can be exposed to toxic chemicals or similar elements from pharmaceutical products, consumer products, the environment, or at home or work. Many cases arise from the use of medications or exposure at work.
Many occupational exposure cases have been made because industrial workers and other workers are often exposed to toxic chemicals more often than consumers and residents. Industrial workers are often exposed to much higher levels of chemicals than the general population, which is exposed to trace amounts of chemicals in the environment.
A toxic tort injury case may result in a workers' compensation claim against the worker's employer. These cases can also be made against third parties, people, or entities other than the employer. This can include manufacturers/distributors of chemicals, substances/equipment that exposed the worker to the substances, or those in control of the premises where the worker was exposed to the toxic chemicals.
Pharmaceutical injuries are when a person is injured by a dangerous, defective, or contaminated medication. Many of these injuries are a result of mass tort cases. They are often litigated against manufacturers and distributors, and potentially against prescribing physicians. These cases differ from medical malpractice suits.
At-home toxic tort litigation has recently become more common due to exposure to mold contamination, construction materials treated with formaldehyde, pesticides, and lead paint. Some consumer products, such as toys and ceramics, may have been produced with high levels of lead, which is toxic.
Wrongful Death Personal Injury Cases
This type of lawsuit involves someone being killed due to someone else's carelessness. Most of these cases come from car and truck crashes, construction accidents, nursing home neglect, airplane accidents, medical malpractice, or the use of a defective or dangerous product. This lawsuit allows for the recovery of damages that are different from those when someone suffers non-fatal injuries.
Defamation: Libel and Slander Personal Injury Cases
Defamation refers to an injury to a person's reputation as a result of untrue statements. A defamation lawsuit can include written, libel, or spoken, slander, speech that causes defamation, the statement being published, a person or entity being injured as a result, the accusatory statement being false, or the statement not being privileged information.
To prove injury, the plaintiff must show that there was harm to their reputation that resulted in economic damage. Economic damage includes loss of business, earning capacity, or property. Some states will allow for non-economic damages such as pain and suffering, emotional distress, etc. These non-economic injuries include loss of standing in the community, personal humiliation, shame, or disgrace.
The statement must be found to be false. If it is found to be true, then the plaintiff will not be able to recover damages. If the statement wasn't privileged information, it is considered defamatory. Privileged information takes place within the context of privileged relationships such as spouses, doctor and patient, lawyer and client, and witnesses who testify before the court.
Other Types of Personal Injury Cases
Other cases involving personal injury include nursing home abuse or neglect, aviation or boating accidents, animal and dog bites, brain or birth or burn or spinal cord injuries, food poisoning, catastrophic accidents and injuries, asbestos exposure and mesothelioma, and legal malpractice.
Truskett Law focuses on personal injury, car wreck injury, semi-truck crashes, surgical injuries, property damage, wrongful death cases, catastrophic cases, insurance disputes in Oklahoma, nursing home negligence, unintentional falls, pedestrian injury, defective products, injuries from animals, and birth injury.
If you have questions about whether or not your case is a personal injury case, you can contact Tulsa's best-rated personal injury law firm here. We can guide you throughout your situation as a firm that practices personal injury law exclusively. We care about you and your case.