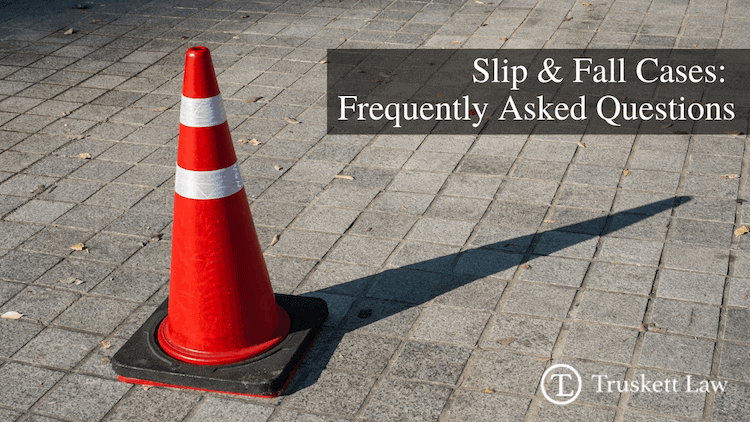 31 Aug

Slip and Fall Cases: Frequently Asked Questions
Slip and Fall Personal Injury Cases FAQ
If you've ever slipped and fallen, you've probably had a few questions go through your mind. Most likely, if the slip and fall incident were severe enough, those questions probably pertained to some legal inquiries. You may ask yourself if you need a lawyer for a slip and fall case? How can you prove a slip and fall case? And what is the average settlement for slip and fall cases? This article will help to answer these questions and more!
Slip and Fall Definition
Slip and fall accidents happen all the time and can sometimes be your own fault, but they can also be due to someone else's negligence. Thousands of injuries occur every year from slips, trips, and falls caused by uneven ground, defective stairs, wet floors, or other property-related flaws or oversights. Depending on the case, a property owner may or may not be responsible for the accident.
For an employee or owner to be legally responsible for your injuries due to an unintentional slip or fall suffered on someone else's property, at least one of the following must be true:
The owner or employee must have known of the dangerous surface and then done nothing about it.
The employee or owner must have caused the spill or work spot that made a surface hazardous.
The owner or employee should have known of the dangerous surface because a "reasonable" person who maintains or owns the property would have discovered and then removed or fixed it.
In all of these cases, you don't necessarily have to prove that you were being careful. You only need to clearly describe what you were doing so that an insurance adjuster will understand that you weren't being careless or negligent. Many slip and fall accidents can be prevented with appropriate maintenance and care to make a property safe for visitors. If there are unchangeable dangers that cannot be corrected, the property owner or renter must effectively warn others of the hazard.
Slip and Fall FAQ
A: When you are hurt in a severe Tulsa slip and fall accident, you may be able to make a personal injury claim against the property owner, property renter, or property maintainer. To be able to file a Tulsa slip and fall claim, you need to prove that the renter or owner did not fulfill their legal duty to you to make the property safe and that you were harmed as a consequence of the owner's actions. Specific rules about how evidence is collected and presented in a courtroom can make proving these elements complicated. So, if you are hurt in a slip and fall accident and want to seek compensation, it's best to hire a personal injury lawyer to help make your case. They'll be able to evaluate your claim, discuss theories of liability with you, and pursue compensation. Having an attorney can also help deal with insurance issues that may arise from a slip and fall accident.
Q: How can you prove a slip and fall case?
A: Sometimes, it's hard to know how your slip and fall case occurred, and you may feel unsure of what happened. Let your personal injury attorney help you weed through everything and find the facts of your case. For a slip and fall claim to be successful, it will depend on three things: liability, negligence, and responsibility. The defendant, the property owner or employee, had a duty of care and was negligent in their responsibilities. The defendant neglected their responsibility causing the plaintiff harm or injury.
Q: What is the average settlement for a slip and fall case?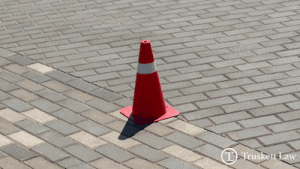 A: When you are hurt in a Tulsa slip and fall accident, the sum of money you can recuperate from the property owner or renter responsible for the accident will differ depending upon how seriously you were hurt. It's hard to put a number to a case without knowing the details, but the average slip and fall settlement is between $15,000 and $45,000 depending on the factors. If you have minor injuries, your case may fall below average. If you have severe injuries and have a strong legal case, your settlement may be higher than average. 
Q: Where are some of the most common places to accidentally slip and fall?
A: Slip and fall accidents can happen almost anywhere. From shopping malls to playgrounds, sidewalks to parking lots, and every place in between, unsafe property conditions can lead to serious injury.
Q: What are the common causes of slip and fall accidents?
A: Common causes for slip and fall accidents include: defective pavement, snow and ice accumulation, broken handrails, spilled food or drinks, defective carpeting, stray electrical cords or wires, and inadequate lighting. These are just some of the reasons someone can trip, fall, or slip. There are many other causes of slip and fall accidents.
Q: Who are the most common victims of a slip and fall accident?
A: Anyone who encounters an unstable walking surface is a potential victim. However, older adults suffer slip and fall accidents more often. According to the CDC, falls are the leading cause of injury and death in older Americans.
Q: What should I do after a slip and fall accident?
A: First and foremost, you should keep in mind that your health is most important. If you are severely injured, seek medical attention and have someone call 911 immediately. However, if you are not severely injured and can spare the expense, then it's important to establish the cause of your accident. Find out if there was a liquid on the floor or if you tripped over something. Gather contact information of any witnesses even if they did not directly witness your fall. They can still help describe your demeanor and the environment and conditions surrounding your accident. You may also want to fill out an accident report if your accident occurs at a business place. Make sure that you receive a copy of the information. Photographs of the exact location of the accident can also be helpful. 
Q: What do I do if I fall while at the home of a neighbor or friend who invited me there?
A: Social guests can often recover compensation directly from the host, depending on how the guest's injuries happened. However, homeowners should tell their guests about or correct any dangerous conditions that guests can not easily recognize. Sometimes slip and fall accidents occur on a friend or family member's property, and you don't want to cause them any legal worries. When you seek legal compensation, you are seeking it from their insurance company, not them. 
Q: What should I do if I'm injured in a store?
A: If you are hurt in a slip and fall accident at a store or commercial property, the first thing you should do is seek medical attention. Seeking medical attention can provide you with legal documents related to your accident. After you've received proper medical attention, you must report the accident to the store manager or owner. This is vital if you end up needing to go to court. Otherwise, you can compromise your chances of filing a lawsuit or recovering compensation. 
Q: What do I do if I slip and fall at work?
A: Slip and fall accidents are the number one cause of workers' compensation claims. An estimates one out of every four work-related accidents results in a slip and fall. Of these slip and fall incidents, 22% result in serious injury. Just like with any other injury, seek immediate medical attention, and have someone call 911. Document evidence to the best of your ability and report the accident. 
Q: How long do slip and fall settlements take?
A: Just like how the compensation is different for every case, the duration of a slip and fall settlement depends on your specific case. These types of cases can take anywhere from several months to several years to settle. 
Q: What is the statute of limitations in Oklahoma for a slip and fall case?
A: A statute of limitations is a law that puts a time limit on your right to pursue having your lawsuit heard in a state's civil court system. Specific time limits vary depending on the kind of case you want to file. In Oklahoma, a slip and fall case is almost always the same statute of limitations in any type of personal injury case. Oklahoma Statute section 12-95 gives you two years to ask the state courts for a civil remedy for any personal injury or damage to personal property. 
Contact Truskett Law
Truskett personal injury lawyers care for Tulsans and their wellbeing. With over 13 years of experience in personal injury cases and are, they are waiting for the opportunity to serve you! Truskett Law works for you and is dedicated to your personal injury case. Set up a free consultation today by contacting Truskett Law today by calling 918-392-5444 or clicking here.
Don't risk it. Call Truskett.