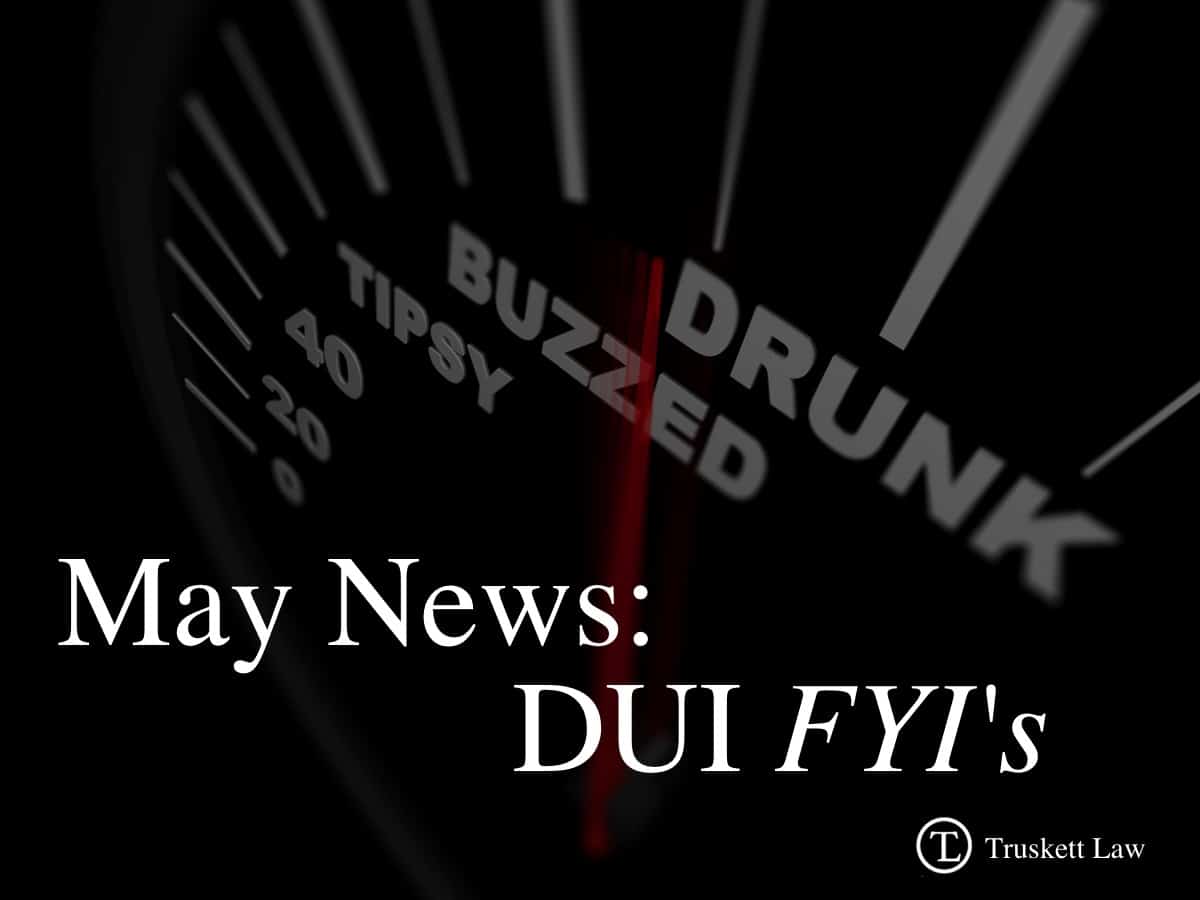 26 May

May News : DUI FYI's

Staying up to date with what's going on in your community and nation is important; but keeping up with the many events that happen each week, much less each day, is nearly impossible.  There were so many DUI's in the news this month. Let's look at some DUI facts:
Drunk driving costs each adult in the United States almost $800 per year.
Drunk driving costs the United States $199 billion a year.
Each day, people drive drunk almost 300,000 times, but fewer than 4,000 are arrested.
Impairment is not determined by the type of drink, but rather by the amount of alcohol drunk over time.
Almost half of drivers killed in crashes who tested positive for drugs also had alcohol in their system.
Every 90 seconds a person is injured in a drunk driving crash.
It can cost another's life. Alcohol-related traffic crashes don't only affect the impaired driver. One third of alcohol-involved traffic fatalities are passengers, occupants in other vehicles or pedestrians.
An average drunk driver has driven drunk 80 times before first arrest.*
With Memorial Day weekend approaching, let's make safety our first priority.
May's Top 3 News Articles:
An 80-year-old Tahlequah woman died Thursday afternoon after she was pinned in her vehicle for nearly four hours on a county road.
Joyce Osburn was pinned in her vehicle for about three hours and 45 minutes after the collision. OHP troopers report that Osburn was pronounced dead at the collision site "due to massive injuries."
Tammera Baker was allegedly under the influence of alcohol when her car collided with Osburn's, according to the report.
A Las Vegas father was killed in a three-car crash earlier this week.
Gerardo Villicana was heading home from a doctor's appointment on Tuesday when police say 47-year-old Ronald Leavell was driving high on marijuana, speeding 80 miles per hour in a residential neighborhood and ran a stop sign.
The crash was so powerful that the engine and transmission from the victim's car were sent flying through a brick wall.
Leavell is in jail without bail and schedule to appear in court soon.
A Broken Arrow woman was sentenced to five years in prison for driving under the influence and causing a head-on collision that killed a Broken Arrow man in 2015.
Brenda Kay Lambeth, 62, was sentenced after pleading guilty to charges of first-degree manslaughter, driving under the influence of alcohol and unsafe lane use in the crash that killed 60-year-old Ross Shoemaker.
District Judge Doug Drummond decided that Lambeth will spend 15 years under Oklahoma Department of Corrections supervision — five years of which are to be served in prison.
"I take full responsibility for the loss of your family member, Ross," Lambeth said, calling her decisions "irresponsible."
Truskett Law is committed to keeping our community safe and healthy. If you or a loved one has been injured in a car wreck, we are here to help. We give free consultations for injuries, car wrecks and wrongful deaths.

Give us a call at (918) 392-5444

*DUI facts- https://www.intoxalock.com/ignition-interlock-devices/statistics#First