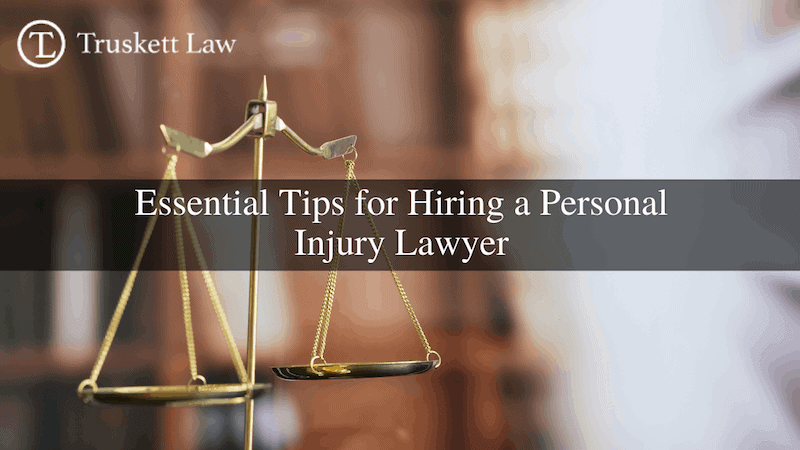 17 Jun

Choosing A Tulsa Personal Injury Lawyer: Tips For Success
Essential Tips for Choosing a Personal Injury Lawyer 
When it comes to hiring the right people to handle your personal injury case, ensuring that the lawyer is the best fit for the job is essential! Whether you've been injured in a car accident or are having trouble after surgery, you want to make sure you find a reliable attorney who will represent your case as best as possible. How do you know who is qualified? Where do you begin to look?
Know Where to Look for a Personal Injury Lawyer
Word of mouth is still one of the best ways to get a referral to a law firm your friends or family think does the best job. If you have people close to you who have been represented in a legal case, odds are they will want to refer someone who can represent you just as well as they were. Talking to people you trust and have had a positive experience with is one of the best ways to find a personal injury lawyer.
You can even ask people who are central to your community. They will likely know of a lot of places that can help, but they will be able to point out the best one for your situation. You can ask a trusted professional like a medical professional, an accountant, or your neighbor. Talk to people about their experiences and see how their attorneys communicated with them.
Online reviews are another way to find qualified individuals. Diving deeper into Google and Facebook reviews helps you to hear about real people's experiences transparently. These reviews help you to see a law firm's best qualities as well as its shortcomings. You can also read about what they are about on their direct websites. Directories are another way to find local law firms. However, directories won't tell you about a firm's reputation.
Contact The Personal Injury Lawyer 
After you have narrowed it down to a few law firms or lawyers you are interested in speaking with, contact them with a simple phone call. It is easy to submit your case on websites, but when you call, you can getter a better feel for how they operate and if their office would be a good fit for you.
Or, if you can meet with them face-to-face, make a consultation meeting. It's best to do this with more than one attorney to make the smartest decision. If you don't consult with a lawyer and end up signing a contract with them, you could sign with someone who doesn't match what you need. This could lead to a loss of time and money. The initial meeting is a great way to get acquainted with the attorney and staff you could potentially be working with in the future.
Know What to Discuss With a Personal Injury Lawyer
Make sure to review all the paperwork you are presented with. You will want to make sure that you have a full understanding of whatever contract you are about to sign.
Once you have approved the document, you will have entered into an agreement with them. Take the time to ask them any questions you feel are necessary to make you feel comfortable. If the attorney is uncomfortable or bothered by your questions, take that as an indication as to whether or not they are willing to support you.
It's essential that you ask about fees upfront. Transparency is crucial when it comes to any significant financial transaction. You should always get any fee agreement in writing.
Most personal injury attorneys work on contingency which allows them to receive approximately one-third of the eventual settlement or judgment as well as any office expenses. You will want to make sure that you understand the attorney's fees from the start.
You will also want to ask questions regarding how the case would be handled at that particular firm. Questions could include:
What fees does the firm charge its clients?
What payment plans are offered?
How much compensation can I expect if we win my case?
What type of cases does this law firm typically handle?
How much experience do you have handling my type of situation?
How long have you been handling personal injury cases?
How might this case end based on experience?
How long have instances like this taken to resolve in the past?
Who will be working on my case?
Will my case go to trial?
What is the statute of limitations for filing a personal injury case in my state? (Typically, the statute of limitations in Oklahoma is two years from the date of the incident.)
What is my role in the lawsuit?
How an attorney answers these questions can indicate who you'll be dealing with and if they'll be able to represent you well.
Do Your Research Before Committing to a Personal Injury Lawyer
Look up the attorneys you are considering online. When doing so, make sure they are licensed and have a good standing in the state where the accident occurred. Every state has a local bar association. All attorneys are registered in their databases. By checking their bar status, you can see whether they have been sanctioned or have any disciplinary measures against them. Don't be afraid to ask difficult questions when you talk to them.
Listen to Your Instincts When Hiring a Personal Injury Attorney
When picking someone to represent your personal injury case, you will want to make sure it's someone you like because you will be spending a lot of time together! Pick an attorney who genuinely cares about you as a person and for your long-term wellbeing. Some lawyers care more about the value of a case over making decisions that will benefit their client.
You want to pick a law firm that fits your intentions. You'll also want to set expectations for communication from the beginning. You will also want to make sure that your lawyer is staying objective and not interested in settling right away.
You also want someone authentic and honest about the weaker parts of your case up front. Be wary of someone who only talks up the strengths of your case. Trust your gut when choosing a representative. Move on to another attorney, if it does not feel right!
Find Out Your Potential Personal Injury Lawyer's Qualifications and Experience
When you find out the extent of your lawyer's training and legal experience, you can rest easier knowing that they are qualified enough to handle your case. You may want to see if they have dealt with a client in a similar situation as yourself. By reviewing their experience, you can eliminate underqualified attorneys.
A few questions to ask include, "How long have you been practicing?" "What percentage of your cases involve situations similar to mine?" and "Will you personally handle my case, or will you hand it to an associate?" You'll want someone familiar with your state's laws.
When you talk to a lawyer, find out if they will be the person representing your case before you hire them. Their response can tell you if they are willing to take time out of their busy schedule to talk to you personally rather than having someone else do the talking for them. This can tell you what kind of attention they'll give your case.
If necessary, you should hire an attorney who has experience taking cases to trial. Some attorneys handle personal injury cases but have never actually seen inside a courtroom. If your attorney doesn't have trial experience, the opposing lawyers may try to take advantage of that.
Hire a Lawyer Who Specializes in Personal Injury
If you don't have a lawyer who specializes and understands personal injury, you may have an attorney who doesn't completely understand your situation. Attorneys who handle personal injury law know how intricate and specific these kinds of cases are. A lawyer who focuses solely on personal injury will have the unique skills to determine liability, negligence, and cause of the accident. They will be better equipped when accurately valuing your case and the amount of compensation you deserve.
Know Where Not to Look for a Personal Injury Attorney
Finding a lawyer that is more interested in their client's wellbeing is more important than looking to those you often see. Take time to read through an attorney's website to feel out the type of person they are and then reach out.
The kind of things you want to look out for include:
    Lack of reputation for trying cases
    Poor client reviews
    Appear to be guessing when asked how to handle a case
    Over-promise or claim a quick, successful result when they do not know the facts of the situation yet
    Do not have fee agreements in writing
You may not always be able to have a face-to-face consultation before you hire an attorney. Make sure that you are comfortable with whatever you choose. Make sure you have a good connection, feel as though the lawyer is ethical, and that communication channels are open.
Choosing an attorney should not be handled lightly and is a personal decision. Most lawyers have many years of education and have passed a challenging licensing exam to be able to practice. However, no matter their level of experience, a personal injury lawyer should be personal. They are going to know intimate details of your case that are very personal. Make sure that you are comfortable with them and that you can be transparent with them.
Truskett Law is comprised of a reliable, dependable, and accessible team that is honest with you. Our clients are our highest priority. We make ourselves available when you need us and strive to serve you to the best of our ability and to make sure you know your rights. That's why we are Tulsa's best option as a personal injury lawyer.
We handle many different kinds of personal injury cases, including:
Motor Vehicle Wreck
Semi-Truck Wreck
Wrongful Death
Unintentional Falls
And More
Contact Tulsa's top-rated personal injury lawyer today to learn more about how we can serve you by going here. We value your success and safety.