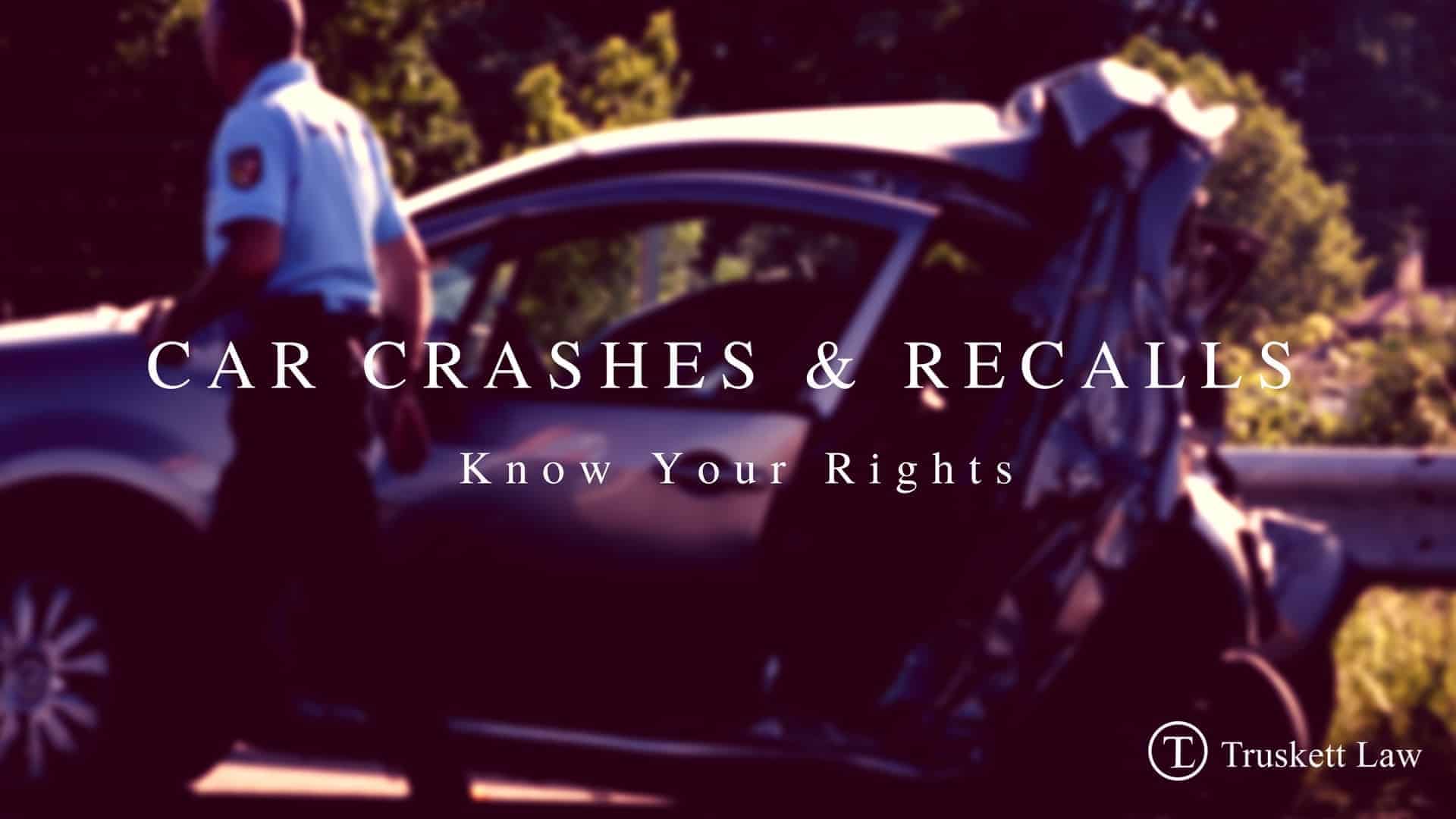 06 Feb

Car Crashes & Recalls: Know Your Rights

If you've been injured in a car crash, don't just take an insurance company's word for what your settlement should be. Did you know that you may have an injury case even if the accident was due to driver error? Car crashes & recalls are a factor which may allow you to receive compensation.
Recalls
What is a recall? The National Highway Traffic Safety Administration (NHTSA) requires that manufacturers report all vehicle defects. When defects are found, either the manufacturer or the NHTSA itself will issue a recall. This means that the recalled part will be repaired or replaced free of charge.
Only a handful of states require dealerships to notify owners fo recalls. Many manufacturers choose to notify even in states where it is not required by law. However, there may be pending recalls on your vehicle that you don't know about. It's a good idea to check the NHTSA's website, which keeps track of all current recalls.
Product Liability in Tulsa
What is product liability? Our laws hold manufacturers and sellers of all products accountable if they supply you with a defective product. Companies are required to provide products that meet "reasonable expectations." If you buy something and it turns out to be defective or poses unexpected dangers, the manufacturers and sellers become liable.
In the case of a vehicle, this is exceedingly important. An unsafe automobile can cause serious injury or death, but it may not always be obvious that the vehicle was to blame. There may have been a pending recall on your vehicle you didn't know about. Therefore, it's important to speak to an experienced personal injury lawyer before you settle any claim involving an auto accident injury.
Product Liability Lawsuits
Even though we do our best to learn about and address all vehicle defects and recalls, we are not always successful. If you have been injured, you may have a case for a product liability suit against the auto manufacturer, even if the crash occurred as a result of driver error. This is especially true if there was a recall of which you were unaware.
In such a suit, you would claim that the defect existed when you bought the car. Then you would show that you were operating the vehicle in a normal manner. Finally, you would demonstrate that you suffered damage as a result of the defect. In a product liability lawsuit, you only need to prove there was a defect, not that the company made a mistake.
"Crashworthiness"
Cars sold in the U.S. are required to be "crashworthy." That means that if you're in an accident, your car should be able to protect you. Although some injuries may not be avoidable, many are. A defect in seatbelts, airbags, or the car's frame may mean that your car did not meet the standards for crashworthiness. Manufacturers have issued a number of recalls for these items in recent years.
Consult an Attorney Now
Time is not your friend when dealing with insurance companies after an auto accident. Oklahoma's statute of limitations for product liability and personal injury is 2 years. That may seem like plenty of time. However, you want to begin talking with your attorney while the details of the accident are fresh in your mind. In addition, insurance companies may try to rush you to settle, so you need a professional in your corner now.
If you've been injured in a car crash where a recall was involved, or if you think you may have a product liability case, call us today at 918-392-5444. At Truskett Law, your consultation is always free and confidential. We work for you!