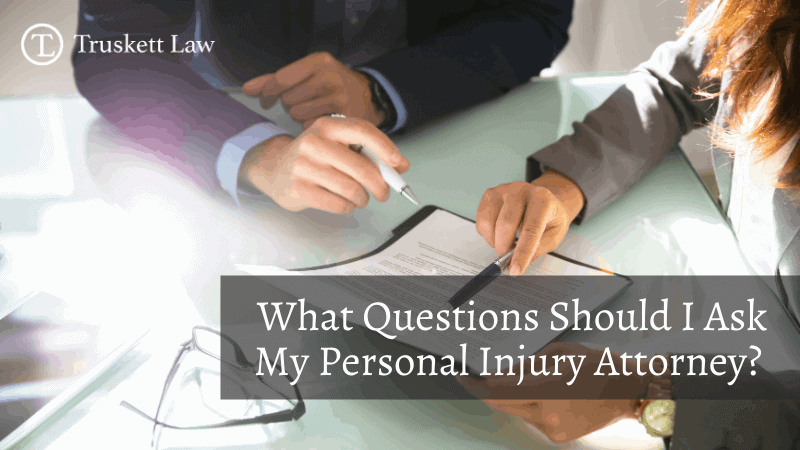 17 Dec

What Questions Should I Ask My Personal Injury Attorney?

If you're dealing with a personal injury case, odds are that you are seeking out professional legal advice from a personal injury lawyer. However, even if you know the right people to get help from, you may not always know the right questions to ask. No one is prepared for an injury from an accident, whether you're injured in a car wreck, or you've slipped and fallen. Personal injury accidents are jarring and can often make you feel overwhelmed.

So, what questions should you ask your personal injury attorney? A few of the questions you should ask your personal injury attorney include the following:
Are you able to handle my case?
Have you litigated a case similar to mine before?
What is your assessment of my case?
In what areas of law do you specialize?
What is your contingency fee?
How much am I expected to participate?
Will I have to pay an advanced cost if we lose?
In this post, we will take a closer look at these questions as well as others. We will also provide you with information regarding the answers you should look for before hiring a personal injury attorney to represent you.
Questions to Ask Your Personal Injury Attorney
The personal injury attorney who represents your case will have a significant impact on the final outcome. For this reason, it is important to be thorough in your questioning. Additionally, many individuals have questions about personal injury law as they begin seeking a resolution for their case. Here are some of the questions you can (and should) ask your personal injury attorney:
Can You Handle My Case?
An attorney will be able to tell if they can handle your case. Able attorneys believe in the people and causes they represent. So, they won't take a case if they can't give it the attention it deserves. Smaller firms may have issues with their availability. Law firms with multiple attorneys will have enough experienced staff to manage your case.
No matter your case, you'll want to make sure that your lawyer has the time and energy to dedicate to becoming familiar with your case. The right lawyer will be ready to fight for you.
Have You Handled a Case Similar to Mine Before?
Experience is essential when it comes to anything legal. Your lawyer must have years of experience working on personal injury cases similar to yours. You'll also want to make sure to inquire about an attorney's success rate. Winning cases aren't the only indicator as to a good lawyer, but it can indicate that they are dedicated, reliable, and a knowledgeable legal professional who can prosecute your case.
What is Your Assessment?
As a victim of personal injury, you can easily assume that you aren't at fault and that your case will be easy to process. But accidents vary from one another, even those that are similar. This means that your case's details and even the law itself may make a court case difficult.
That's why having an objective, unbiased expert is essential. You want an attorney that will be honest with you about your chances, the approximate worth of your case, and if you can or should pursue compensation.
In What Areas of Law Do You Specialize?
You'll want a lawyer that specializes primarily in personal injury law. If your case ends up going to court, you'll want an experienced lawyer who is familiar with the law. Personal injury lawyers should also know common defense tactics made by insurance companies and employers. They'll be able to negotiate to fit your needs and know how to navigate complex litigation procedures.
What is Your Contingency Fee?
Most personal injury attorneys work based on a contingency fee agreement. This means that you only pay legal fees if they're able to maintain compensation for your injury. Generally, contingency fees are 40% of the settlement, but this can sometimes be reduced in certain situations. Ensure that you read your retainer documents entirely before you hire a personal injury lawyer.
What is My Role and What Are Your Expectations?
The purpose of a lawyer is to have someone defend you in a court of law. This cannot be done by someone who is not familiar with personal injury law and generally by anyone of the general population. To allow them to defend you effectively, they'll need to know you and your story well. You'll be expected to provide the facts of your case, the details of the incident, documents from insurers and hospitals, and your medical history.
You'll be expected to consult with your attorney and their staff concerning various aspects of your case. Some attorneys handle cases differently based on their personalities too. Some attorneys insist on a high level of involvement. Others prefer to do a lot of the work themselves. You should ensure that you know the expectations your lawyer will have for you concerning your involvement.
Will I Have to Pay if We Lose?
Generally, personal injury firms only get paid if they win your case, also known as the costs of litigation. However, there are other out-of-pocket costs, including filing fees, medical records retrieval fees, and expert witness costs. If you aren't sure what costs will be included, you must talk about this beforehand with your lawyer.
Some lawyers will declare these additional costs to be someone else's responsibility if your case is lost, but others may require you to cover these in that situation. When seeking legal counsel, ensure that you ask about additional fees and ensure you fully understand any agreements you are asked to sign.
Will My Case Go to Trial? If So, When?
When a personal injury lawyer takes your case, they should be prepared for any scenario, including your case going to trial. Settling out of court may make sense for many cases, but if necessary, your lawyer should have the skills needed to take your case to trial.
Additionally, they should have the skills to win. A lawyer should be able to give you a general time frame for how long it'll take before your case is tried in court. They should know the local courthouse and the inner workings of the legal system.
How Experienced Are You with Personal Injury Law?
This is important when hiring an attorney to represent your personal injury case. You'll want to know a lawyer's skills and abilities. You can request background and bio information to understand better who you're hiring to represent your case. This can include information on their education, essential cases they've succeeded in, and what areas of law they specifically practice. Most attorneys will highlight their information and achievements for you to read on their website.
Which Attorney or Staff Member at the Firm Will Handle My Case?
Sometimes the person you speak to may not always be the person to handle your case or bring it to court. In a firm with multiple lawyers, it isn't uncommon for your case to pass to various attorneys. It's essential to know who will be handling your case. You should also be sure to know who your point of contact is every step of the way.
How Long Does Resolution Take?
Because of the complexity and unpredictability of court cases, no lawyer will be able to give you a definite, final amount of time. However, an experienced lawyer will know the legal system well enough and be familiar with similar cases to yours that they can give you a general time frame. Their estimate can help give you an idea about how experienced the lawyer you're talking to is.
One that's familiar enough with your case types will know specifics and the legal system extremely well. They'll have a more informed idea of a time frame than someone who is still learning. Note that any timeline that your attorney gives you is subject to change, even significantly, but your case is worth pursuing.
What Do You Need From Me Before and During My Case?
This is the most significant part of your responsibility in a personal injury case. Your lawyer will expect you to play your role in building a successful case. You're "part" includes evidence to help prove any pain and suffering from your accident, documentation of medical expenses, wages lost from an inability to work, medical records, police reports, and any other related documentation.
An attorney will be able to help you retrieve documentation. You must have an open line of communication with your personal injury lawyer about your responsibilities. They're there to help you. But to help them help you, you'll need to provide these documents to the best of your ability.
Truskett Law: Your Best Tulsa Personal Injury Lawyers
A good lawyer may sometimes be hard to find. That's where Tulsa's #1 rated personal injury law firm on Google reviews, Truskett Law, steps in. We're dedicated to working for our clients and knowing and understanding your personal injury case. Our team is reliable, dependable, and accessible.
We're honest with you about your case, whether it's good or bad. Truskett lawyers practice personal injury law exclusively, and we care about you and your case. Truskett was founded on values of community, safety, educating clients, and advocacy. With over a decade of experience practicing personal injury law, Turskett Law is your best option as your legal advocates! Are you ready to begin working towards a resolution in your case? Contact our Tulsa personal injury attorney team today!