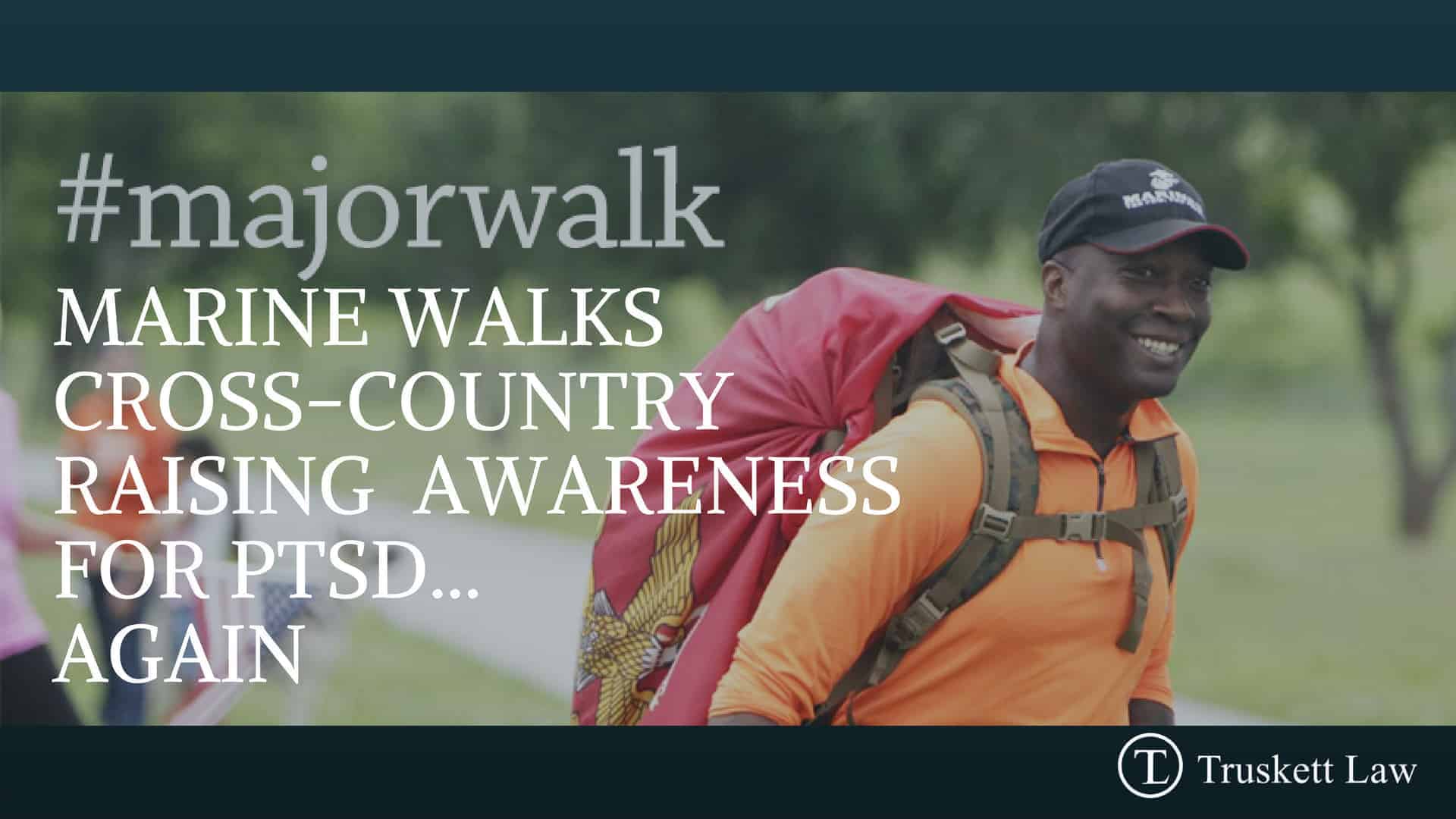 19 Jun

Marine Walks Across America to Raise Awareness of PTSD
A Special Man…
Gunny Roy Wesley "Wes" Brady Jr. is a special man. First, because he is a U.S. Marine. He's part of the 1% of American citizens who risk their lives to serve our nation. But this retired Marine Gunnery Seargent is special for another reason.
A Special Cause…
Gunny Brady is walking across America for the second time. Why would someone do that? And why would they do it twice? This Marine is doing it because he's committed to a cause that's very close to his heart. He's raising awareness of PTSD (Post-Traumatic Stress Disorder) and TBI (Traumatic Brain Injury).
Three years ago, he came up with the idea of walking cross-country for the cause, and he did it. He walked from Charlotte, North Carolina, to Camp Pendleton in California. Roy's "Walk For Warriors" was in partnership with the Combat Wounded Veteran Challenge. CWVC is a post-military support organization that works to improve the lives of wounded or injured veterans.
A Special Connection…
Now he's doing it again, but this time he says, "It's personal." On the CWVC website, he states,
"Because it needs to be done.  Do your homework, its personal this time…

It's called the Major Walk in honor of my brother, Major Brady.  Due to the fact that my brother, and a Marine brother of mine, took their own lives, I'm walking to raise awareness of the things our service members face when they come back home.  Some come home with visible wounds, and some come home looking fine…but things like Traumatic Brain Injuries and Post Traumatic Stress aren't visible.  TBI and PTS can wreak havoc on the mental state of our service members, leading to divorce, drug/alcohol addiction, trouble with law enforcement, and suicidal tendencies.

I'm walking to spread awareness of these issues to whoever will listen to me.  If you saw me walking down the road, with my rucksack and Marine Corps flag waving behind me…and looked me up, then my plan worked.  You are here learning about difficulties that wounded service members face."
Gunny Brady retired from the U.S. Marines after 22 years, including two tours in Iraq. With plenty of time on his hands, this is a great way for him to honor his brother and all the others who have sacrificed and continue to suffer.
His walk led him through Tulsa this Sunday morning. He started in California in March and expects to complete his walk in New Jersey sometime in September. The walk will total around 2,000 miles in all.
How can we help?
Gunny Brady's walk has a specific purpose. He wants to make sure that his brother, and his brothers in arms, are not forgotten. PTSD and TBI are serious and widespread problems among veterans. And veterans suffering from them are much more likely to experience significant life difficulties and even suicide.
So please go to the CWVC website and read about the organization. And support them in their efforts to support our veterans.
Some injuries, even if not visible, last a lifetime and cause significant difficulty. This includes brain injuries and post-traumatic stress. With an injury caused by another, don't risk it, call Truskett. 918-392-5444. Free and Confidential Consults.