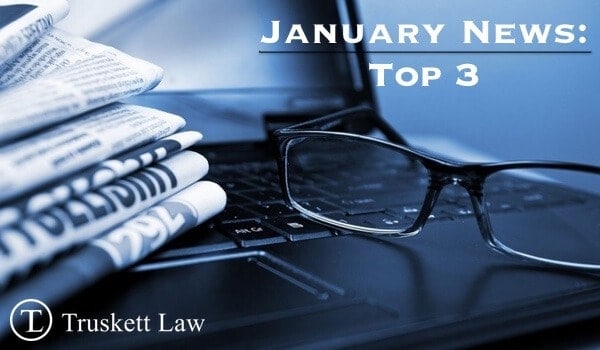 26 Jan

January News: Top 3

Staying up to date with what's going on in your community and nation is important; but keeping up with the many events that happen each week, much less each day, is nearly impossible!

Educating yourself on the current events going on around you can save time and keep you safe. However, staying on top of an endless news cycle is not something many people have time for.

Because of this, we've put together an overview of the top three news stories for this month:

A report released Tuesday by the AAA Foundation for Traffic Safety suggests that drivers who sleep only five or six hours in a 24-hour period are twice as likely to crash as drivers who get seven hours of sleep or more (NPR).

Driving drowsy could be just as dangerous as driving under the influence. It's important to get at least 7 hours of sleep each night. And if you don't get the recommended amount of sleep, taking short 15-20 minute naps before prolonged spans of driving helps improve focus.

Honda is adding 772,000 more cars to the Takata airbag recalls as the troubled Japanese supplier announced new repair schedules for several million inflators currently under recall (Car and Driver).

Honda has the most U.S. vehicles of any automaker affected by the recalls. All but 11 of the deaths connected to the malfunctioning airbags were drivers of Hondas. A complete list of the cars included in this recall can be found here. Be sure to check and make sure your car isn't on this list; better safe than sorry.
3.
UO Student Files $3 Million Lawsuit Over Delayed Diagnosis
A University of Oregon student who was hospitalized for two weeks with meningococcal disease in 2015 has sued medical providers for $3 million for negligence for allegedly failing to properly diagnose her illness (The Register Guard).
Christina Jenkins, wrongly diagnosed with a "viral syndrome", later found out that she had meningococcal disease. Jenkins filed a $3 million lawsuit against Oregon Healthcare Resources, Oregon Medical Group, the OHR Physician Group, and Elizabeth Strubel.
Truskett Law is committed to keeping Tulsa safe and healthy. If you or a loved one has been injured in a car wreck, we are here to help. We give free consultations for injuries, car wrecks, and wrongful deaths.
Give us a call at (918) 392-5444