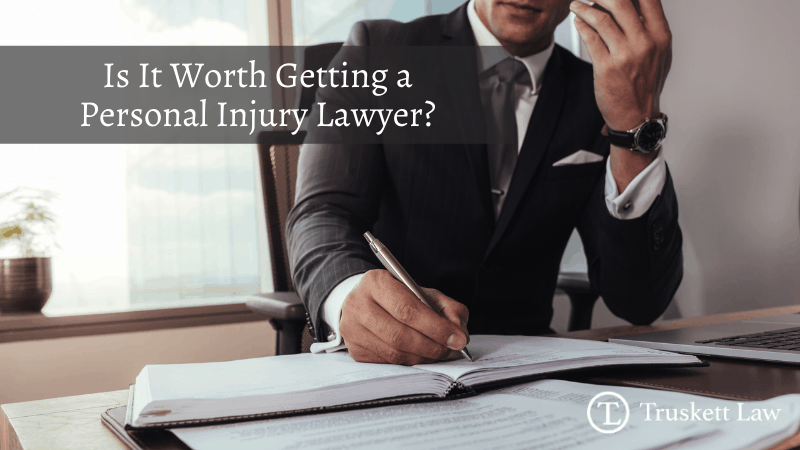 27 Jul

Is It Worth Getting a Personal Injury Lawyer?
Is Getting a Personal Injury Lawyer Worth the Cost?
After you've been involved in an accident, one of the things you do is to seek out a personal injury lawyer to help you file a claim. But is it really worth getting a personal injury attorney? What are the pros and cons? The attorneys at Truskett Law are here to help you evaluate whether or not it's worth having a personal injury attorney to help you after an accident.
So, is it worth getting a personal injury attorney? If you've been involved in an accident it may be worth getting a personal injury attorney. However, there are situations where it may not be worth getting a personal injury lawyer.
There are various details for every situation. We'll go over a few different scenarios to help you determine if hiring a personal injury attorney is worth your time, money, or effort. Although, in general, it may be crucial for you to hire a personal injury lawyer immediately if you end up needing to deal with an insurance company.
If you've been injured and insurance will be who you're dealing with, you may want to hire a personal injury lawyer to negotiate and communicate on your behalf.
When to Hire a Personal Injury Attorney
If you've suffered an injury that is the result of an individual's or corporate's negligence, having an experienced, trustworthy personal injury lawyer can prove to be vital. Many people may try to handle their personal injury claim by themselves, but that can often result in not receiving the compensation they deserve. So, if your situation requires you to hire a personal injury lawyer, you'll want to ensure they not only are familiar with cases similar to yours but that they're also competent and knowledgeable.
Why It's a Good Idea to Hire a Personal Injury Lawyer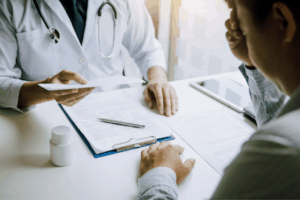 If you decide to try and handle your own case, there could be negative repercussions. For instance, you may not be knowledgeable in personal injury law or know about the basic legal procession of filing a claim. That's when a personal injury attorney can help you better understand the legal process and how to conduct yourself if your claim ends up going to court. Lawyers are professionally trained and have the practical experience necessary to navigate dealing with personal injury cases.
Keep in mind that if you try to handle your case by yourself, the other party may try and low-ball you on their compensation. Their offer may end up being a minimal amount of money to try and resolve the matter simply. But, when you have a personal injury attorney fighting for you on your behalf, you have someone with a bit more weight behind their name and actions.
Say you send letter after letter requesting information, but you can't seem to get through to get what you need. If you have a personal injury attorney, you can likely obtain information faster and receive responses which would be harder to get as an individual filing your own claim. Further, a personal injury lawyer will most likely have better resources to retain the best expert opinions and knowledge to demonstrate the severity of your injuries and prove liability.
What To Ask a Lawyer Before Hiring Them
When you decide it's time to meet with a lawyer for a consultation, you'll want to treat your meeting as an interview. They're interviewing you to see if you're a good fit as their client, and you're interviewing them to see if they're the best personal injury attorney for your case and needs.
When you consult with them, you'll give them as much information about your situation to give them the best idea of whether they can help you and if it's likely that your case could go to court. You'll want to prepare some questions to ask the attorney to understand their knowledge better and if they're the right fit for you.
Here are a few questions you can ask a personal injury lawyer during your consultation:
Are You Able to Handle My Case?
Not every attorney is well-equipped to handle your case. Some practice various types of law, while others specialize in a specific kind of law. They'll also be able to tell you if they can handle taking on your case.
A good lawyer will be able to tell you whether or not they have the time, energy, and resources to help you and your case. If they can't give it the attention it deserves, they should not take it. You want an attorney who will take the time to get to know you and your case in-depth and who is willing to fight for you.
Have You Handled Cases Similar to Mine?
It's essential that you have an attorney with experience. Ensure that you also inquire about your attorney's success rate in similar cases. Winning cases is not the only indication of a good lawyer, but it proves their dedication, reliability, and that they are a knowledgeable legal professional who can prosecute your case.
What is Your Assessment of My Case?
A consultation is a perfect time to ask your personal injury attorney for their assessment of your case. They'll be able to determine the percentage of fault. Because accidents vary from one to another, your case's details and the law may make filing a claim complex. That's why having a professional, legal opinion is crucial to your expectations for your case. You want a lawyer who'll be honest with you.
What Do You Need From Me Before and During My Case?
When you hire a personal injury lawyer, this will be the most significant responsibility for you in your case. You'll be expected to do your part in helping build a successful lawsuit by gathering evidence to prove injuries and any other necessary documentation.
Remember, you are not alone in gathering information as your attorney will help you, but it is one of your primary roles! Your attorney will help you obtain and retrieve documentation like medical bills, police reports, and proof of loss of wages.
Will My Case Go to Trial? If So, When?
Another thing that would be hard to gauge on your own would be if and when your case could go to trial. A personal injury attorney would be able to tell you best when your case could potentially go to trial. Most cases are settled outside of court, but your attorney should have the knowledge and skills to win if necessary. They should give you a general time frame and how long it will take for your case to be tried in court.
Truskett Law – Worth It
One of the last questions you may have during your consultation is, "How experienced are you with personal injury law?" As mentioned before, you must have an attorney who is knowledgeable in dealing with this type of law. That's why the attorneys here at Truskett Law exclusively practice personal injury law and have over a decade of experience. We're the #1 rated personal injury law firm on Google reviews!
Our reliable, accessible team is ready to consult with you on your case. We can help you determine whether or not hiring a personal injury attorney is worth the time, effort, and resources. Give us a call today!
Don't Risk It. Call Truskett.