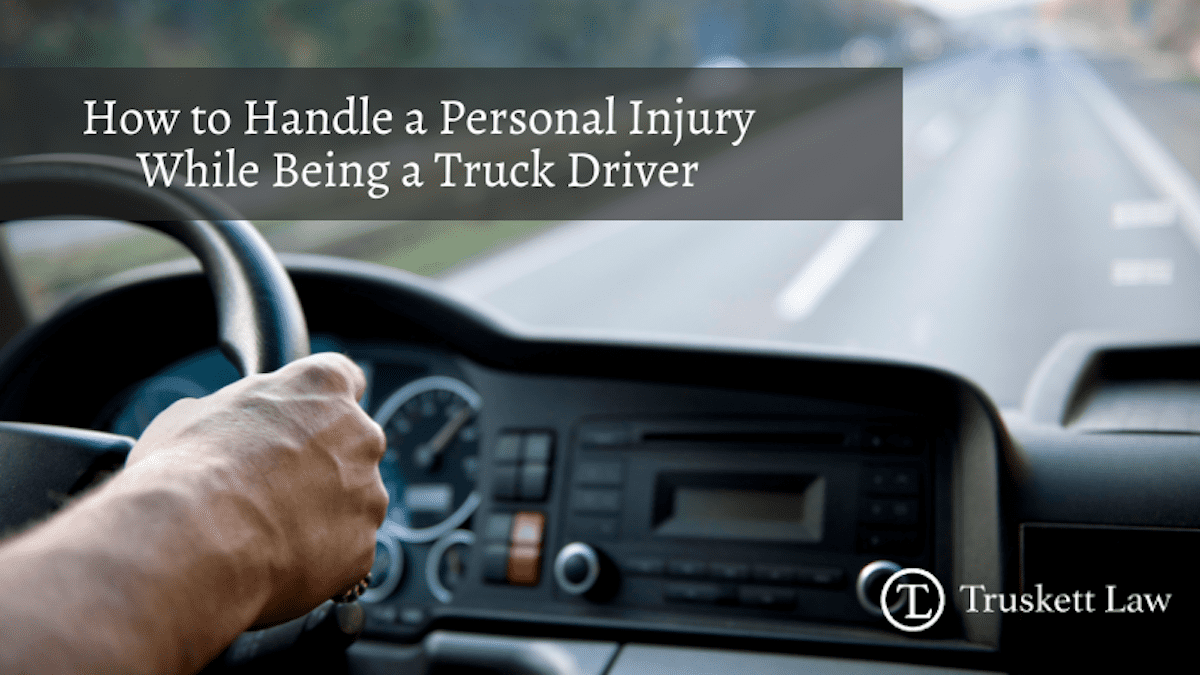 17 Jan

How to Handle a Personal Injury While Being a Truck Driver
What To Do If You Get A Personal Injury As A Truck Driver
If you're a truck driver then you know how important it is to stay safe while on the road. Unfortunately, accidents can and do happen. If you are injured in a truck-related accident, you may not know what to do so we're here to help you be prepared.
So, how do you handle a personal injury while being a truck driver? Here's how to handle a personal injury while being a truck driver:
First, seek medical attention if necessary
Gather any necessary evidence, documents, etc.
Notify your workplace of the personal injury
Know your options for workers' compensation
Contact your insurance company if necessary
Hire legal representation
Take time off work to recover
The most important thing is to stay calm and follow the process step by step to get the best results. Personal injury while being a truck driver can be stressful, but if you handle it correctly, you can minimize the impact on your life and career. Read further for more details on each of these steps!
Seek Medical Help If You're Injured While On The Job
If you've been injured in a truck accident while on the job, it is important to take steps immediately to ensure your physical and financial well-being. First, seek immediate medical attention for any injuries.
Even if you don't think your injuries are serious, make sure to document them with a doctor who can create an accurate record of your condition before and after the accident to aid with any workers' compensation claims.
If possible, you should also gather evidence at the scene like police reports or contact information of witnesses before leaving the accident site.
If your injury was not part of an auto accident and/or only involved yourself, you should still address your medical needs first. Then immediately jot down any details you remember about the incident that caused your injury.
Make sure to take photos of any physical damage and document conversations with witnesses.
Notifying Your Workplace After A Personal Injury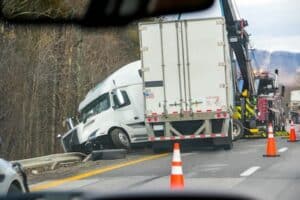 In most cases, truck drivers are required to report any personal injury that occurs while on the job.
You should notify your employer as soon as possible about the incident and provide details about what happened.
Depending on the severity of your accident, you may need to take some time off work for medical treatment and/or rehabilitation.
However, your employer should never threaten termination if you need time off due to a personal injury.
Your company should also provide you with information about your rights to workers' compensation if applicable. Make sure you fully understand these benefits and take advantage of any resources that may be available to help you during this difficult time.
Know Your Options For Worker's Compensation
Navigating truck drivers' worker's compensation with a personal injury can be a difficult and overwhelming process. To get started with workers' compensation, you must file a case with your state's Workers' Compensation Program.
This can be done through your employer or through an independent third-party provider. You may also be eligible for additional benefits like disability payments or medical reimbursement depending on the circumstances of the accident and the severity of your injury.
You can also take a more secondary role in the process by hiring an experienced attorney who is knowledgeable in workers comp and personal injury law. This helps ensure that your best interests are represented throughout the proceedings and lets you focus more on recovery and healing.
Contact Your Insurance Company If Necessary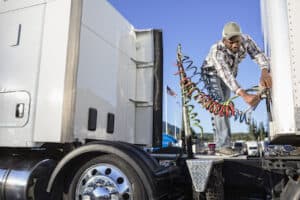 When dealing with insurance companies following a work injury, it is important to remain calm and organized.
You will need to discuss with your employer if you are covered through company insurance or if you will need to use your own.
Records of your doctor's visits, what steps were taken for recovery, and any correspondence with the insurance company should all be meticulously tracked in order to support the case for compensation.
Check with your employer or local laws to make sure you are following the proper protocol in filing a claim. Keeping detailed notes about communications between yourself and insurance representatives can also help mitigate any problems that may arise.
Do You Need To Hire An Attorney If You Get A Personal Injury As A Truck Driver?
When it comes to seeking legal assistance for filing a personal injury case, the answer is ultimately up to you. If the injury was a result of an auto accident, it's always best to consult with a knowledgeable personal injury attorney before filing any documents or signing anything related to the incident.
If your personal injury was sustained while on the job and you have already filed a claim with workers' compensation, an attorney may still be able to help you with any additional questions or concerns.
An attorney can review the details of your case and provide advice that otherwise may not be available. They can also help guide you through the process and make sure your rights are protected throughout.
No matter what type of personal injury you suffer from, it's important to take a proactive approach to the situation and document everything along the way.
This can help ensure that your rights are protected and you receive adequate compensation for any medical or rehabilitation costs associated with the incident.
Taking Time Off Work As A Truck Driver After A Personal Injury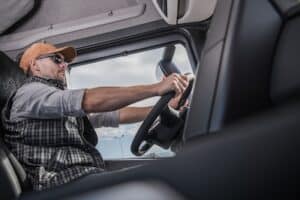 Being a truck driver is one of the toughest and most dangerous jobs out there, and injuries are unfortunately common.
If you have been hurt on the job, it is important to take time off work to rest and recover.
Though the idea of missing out on your wages may be intimidating, taking time off can ensure that you will return to work healthier and stronger than ever before.
Not only will this help with your overall well-being, but you may also qualify for workers' compensation if you follow your employer's guidelines for filing an injury claim.
Taking care of yourself must be your top priority; make sure to take all the necessary steps, from medical attention and treatment to resting at home or other appropriate locations, so that you can heal quickly and return to being a successful truck driver.
The Bottom Line
Being involved in a personal injury as a truck driver can be overwhelming, but it's important to know what steps to take next.
First, seek medical attention if you are injured. Then, contact an experienced attorney who can help you deal with the insurance companies and get the compensation you deserve. Finally, take some time off work to recover both physically and emotionally.
If you or someone you love has been involved in a truck driver personal injury, Truskett Law is here to help. We have successfully represented many clients in personal injury cases and will fight for you every step of the way. Contact us today for a free consultation.
Related Questions
Will I be paid if I take time off work for a personal injury?
It depends on your situation. Some employers may offer paid leave for an injury, while others may not. It is best to check with your employer or local laws to find out what kind of compensation you can expect.
If you are entitled to workers' compensation benefits, these will be determined by the insurance company and the severity of the injury.
What happens if I'm unable to return to work due to a personal injury?
If you are permanently disabled and unable to return to your job as a truck driver due to an injury, you may qualify for Social Security disability benefits.
To be eligible for these benefits, you must have worked enough quarters in the past and must provide evidence that your injury prevents you from working. An experienced attorney can help you determine if you are eligible for these benefits and guide you through the process.