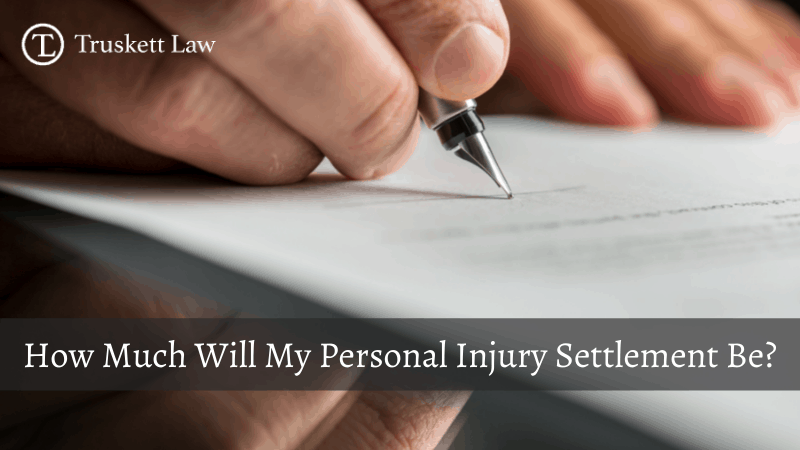 26 May

How Much Will My Personal Injury Settlement Be?
How Much to Expect for a Personal Injury Settlement
Trying to settle a personal injury case can be nerve-wracking. Not only do you have to deal with the immediate effects of an accident, but you also have to deal with how it'll affect your future. Once you've found yourself the right personal injury attorney, you may have a few questions. You may wonder how likely your case will go to trial or if you'll be able to settle outside of the courtroom. If you do pursue a settlement, how much will it be? The dedicated lawyers at Truskett Law are here to answer your questions.
So, how much could your personal injury settlement be? Settlement numbers vary from case to case. No two accidents are the same, which means that settlements look different due to the circumstances of the case. Even within the state of Oklahoma, settlement numbers may vary. To get a better estimate on a settlement, it's best to consult with a personal injury attorney to get a better idea of the compensation you may be entitled to.
Personal Injury Settlement Factors
When you're injured in an accident, the person or entity that caused the accident may be liable for compensating you. Those injured can file a personal injury claim. Commonly, if it's a motor vehicle accident, a third-party claim will be filed through the liable person's insurance company.
Negotiations that take place out of the court often result in a settlement. A settlement of a personal injury claim is a resolution between two or more disputing parties about a legal case. This can be reached before or after going to court. Although it's most likely you'll settle your case before going to court as 95% of personal injury cases are settled outside of the courtroom.
Various factors affect the amount of settlement you receive. That's why it's essential that you find a trustworthy legal representative to handle your settlement negotiations.
Here's a list of some factors to consider:
Fault Percentage: Oklahoma is an "at-fault" state, which means the driver who caused the accident compensates the other party's expenses. The appropriate authorities help to determine who is at fault for the accident. Even if you have a percentage of the blame, you can still seek compensation. However, your payment may be reduced due to having a part in fault.
Medical Expenses: Those who've suffered personal injuries should always seek medical attention. Settlement can include various medical expenses, including medication, surgery, hospitalization, medical equipment, therapy, and more.
Injury Severity: If you suffer a more permanent disabling or long-term injury, you may be able to receive a higher settlement amount. Due to a disabling injury, it may inhibit your ability to earn income. Settlements for minor injuries are often lower due to the victim having lower medical costs. A settlement should calculate not only the costs you've incurred but should include the anticipated losses or expenses.
Treatment Type: Sometimes, insurance companies will only reimburse medical expenses that are "reasonable and necessary."
Treatment Duration: From how long you are prescribed medication to how long you need medical care, the extent of your treatment duration will also affect your settlement.
Benefits of Settlement
It can often be more convenient and easier to settle outside of the courtroom. Speaking with an experienced legal professional can help you to receive the appropriate compensation. They can help you settle outside of the courtroom or help you if your case does end up going to court. Here are a few benefits of settling:
Guaranteed Monetary Compensation: It's likely that you can secure more damages in a trial than in a settlement, but that is not always guaranteed. AT a trial the judge could decide against you, which can leave you with less than you're entitled to or even nothing at all. What you receive in a settlement is usually the precise amount you'd receive from pursuing a trial.
Quick Payout: Compared to trials, settlements are often much faster. Trials are pretty time-consuming, with the process taking months to potentially years to resolve. Settling can also help you to focus your time and efforts on recovering instead of focusing on the accident.
There's Less Risk in Settling: Roughly 10% of the trials that go to court rule in favor of the plaintiff. If you file a claim against an insurance company, the jury may be persuaded in favor of the defendant.
Lower Costs: The more court costs and attorney fees accumulate, the longer a case is at trial. Any sort of legal proceeding can be costly as well as lengthy. If you don't end up winning your case, you may even be made to pay the court costs for the other party.
What Can Affect a Settlement?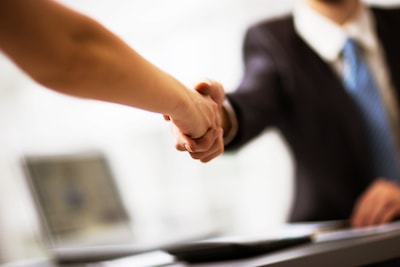 Several factors can influence a settlement offer, including:
The extent of the injuries suffered
The cost of treatment
Future medical expenses
Your income and earning capacity
Lost wages, property damages, and other damages
Your family situation and your age
How sympathetic you'd be to a judge or jury, and
Jurisdiction, precedence, and community norms
An Attorney Who'll Fight for You
If you or a loved one has incurred injuries or damages, you'll want to find a personal injury attorney as soon as you are able. They can assist you in finding compensation, walking you through the legal process of filing a personal injury claim, and seeking a settlement. It's crucial to have an attorney who's not only on your side but is willing to walk you through every step of the way. Especially because it's a legal matter, you need someone who can trust and lean on.
Not every attorney is a seasoned personal injury lawyer. You need one who is willing to fight for you so that you have the best representation possible. Find a legal professional who is passionate about seeking the compensation you deserve. Truskett is exceptional about advocating for you and seeking the settlement you deserve!
When you pick an attorney to help pursue a settlement, ensure that you choose one who genuinely cares for your long-term wellbeing. Unfortunately, some attorneys care more about the value of your case rather than your welfare. That's why when you meet for a consultation with an attorney, you should use that time to determine if that law firm fits your standards and intentions. So, use the consultation to communicate and set expectations.
Pursing Settlement
After suffering injuries, whether minor or severe, monetary compensation may be one way to settle. After an accident, you should always seek immediate medical attention. If you, and those involved, don't need immediate medical attention, you should gather as much information as possible.
Use appropriate documentation to comprise your evidence if needed. Documentation and evidence are necessary for a trial as well as for a settlement. Documentation may include photos, notes, writing down information, compiling witness statements, police reports, other medical documents like bills or records, employee records to show lost wages, pain journals, and insurance policy information.
A personal injury attorney is there to help you piece together the evidence and documents so you don't have to do it yourself. You don't have to have all the pieces of a puzzle together before you consult with a personal injury attorney. That's why an experienced, trusted personal injury attorney comes in.
When you consult with them, they'll tell you what they best recommend regarding your settlement. They can help to determine the best support for your case and give you an estimation regarding the settlement. After gathering the necessary documentation and information, your lawyer will help to negotiate a settlement on your behalf.
Personal Injury Lawyers Who Work for You!
At Truskett Law, we understand the difficulties of being injured and are dedicated to walking you through the legal process, whether or not you settle outside of the court. In addition, we can help to evaluate your case and give you a settlement estimation. We focus on personal injury, car wreck injury, semi-truck crashes, surgical injuries, property damages, wrongful death cases, catastrophic cases, insurance disputes in Oklahoma, nursing home negligence, unintentional falls, pedestrian injury, defective products, injuries from animals, and birth injury.
We're always honest with you about your case, whether it's good or bad. We dedicate ourselves to you and work for you. We'll take the time to ensure that you understand the settlement process and that you have a complete understanding of your rights. We can help to provide clarity for your decisions. Additionally, we give you peace of mind about your case.
We believe that you have the right to fair and honest representation and that it's worth fighting for a full recovery. Our team understands how traumatically an accident can affect you for the rest of your life. We handle various personal injury cases, from something as catastrophic as losing a loved one to something as mild as an unintentional fall.
We can help to answer any questions you have regarding your settlement. Give us a call, and we'll be happy to schedule a free case evaluation!
Don't risk it. Call Truskett.