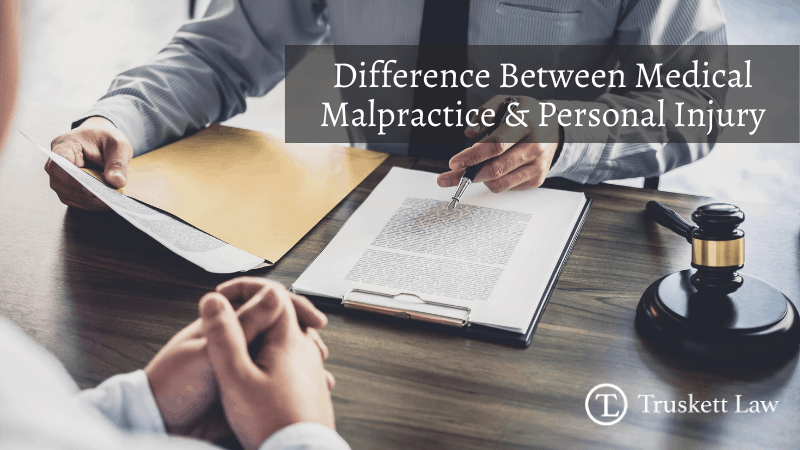 13 May

Difference Between Medical Malpractice & Personal Injury
Medical Malpractice vs. Personal Injury
When it comes to filing a personal injury case, you should understand the difference between medical malpractice and personal injury. If you're involved in a personal injury accident that resulted in an injury, you may likely need medical attention. If the injuries you sustained were severe enough, you might even require surgery. But what happens if the surgeon messes up and causes you more medical issues that result in further treatment and expenses? Truskett Law will help to explain the difference between medical malpractice and personal injury.
So, what's the difference between medical malpractice and personal injury? Most people understand that if a person suffers an emotional or physical injury due to the negligence or carelessness of another person, it's a personal injury. But, what's the difference between personal injury and medical malpractice? When an injury is the direct result of a medical mistake or error made by a medical professional, it's considered medical malpractice. Personal injury is the umbrella under which medical malpractice resides.
Medical malpractice cases can be more complex than other types of personal injury cases. That's why you need to find an experienced personal injury attorney who understands medical malpractice cases. A personal injury attorney can help you determine if your case falls under medical malpractice or a different area of personal injury.
What They Have in Common
Because medical malpractice is under the umbrella of personal injury, they have various claims that are similar. Both cases are set upon seeking justice by means of monetary compensation in the civil court system when someone has been injured due to the actions or inaction of another party.
Both fall under civil law and torts and have a statute of limitations of two years. This two-year time period begins from the start of an apparent injury or the moment that a person realizes the damages they've suffered came from a specific procedure or act.
Differences
Medical malpractice cases are often more complex, require more time, research, and documentation. They can also typically cost more to prosecute and take to trial. Here is a list of some differences:
Complexity: Personal injury lawsuits are often broader in scope but aren't usually as complicated. Medical claims often have more legal hoops to jump through because you're filing against medical professionals or medical facilities.
Fault: In personal injury lawsuits, fault or negligence is usually admitted or more easily determined. In medical malpractice claims, the plaintiff usually fights hard against the claim against them. Medical lawsuits could affect their career or even discredit them, so a claim against them could prove to be detrimental for those medical professionals.
Affidavit of Merit: This is a crucial document that may need to be filed in the case of a medical malpractice lawsuit. An Affidavit of Merit is a sworn statement in which an expert medical witness or attorney states that the claim meets specific requirements in terms of the claim's merit. Multiple expert witnesses are often hired during medical malpractice cases. These experts usually review records and provide medical opinions.
Success Rates: Success rates among personal injury cases vary, including among medical malpractice cases. However, medical malpractice claims are sometimes harder to prove. That can be where an excellent personal injury attorney is essential to your success.
Medical Malpractice
When a medical malpractice lawsuit is filed, your personal injury attorney must prove that your health care provider or medical practitioner didn't meet the expected standard of care during your treatment. If you suffer injuries in a medical setting, your attorney needs to have the ability to prove the actions of the medical professional led to your injuries.
Your attorney may seek out medical experts to examine your records and review your treatment. They'll help to determine whether or not your care and treatment met the acceptable standard of care. Your attorney may also examine evidence and provide documentation of lack of adequate medical care and treatment or even a misdiagnosis.
Oklahoma Medical Malpractice Cases
There are several medical errors that can result in medical malpractice. Medical malpractice can be defined as an injury caused by a medical provider due to negligence, misdiagnosis, or improper medical treatment. Damages can include anything from a minor inconvenience to the death of the injured patient.
When a medical malpractice case is filed, the evidence presented should point the court to the medical professional's mistake. This will help the court to determine what kind of compensation is appropriate. Here are some examples of things to include:
A healthcare professional was negligent in how they cared for the plaintiff.
Proof of failure to meet the standard of care.
The medical professional didn't act according to the established level of care.
Medical Malpractice Examples
Here's a list of examples of medical malpractice that you can file a legal case for:
Ignoring apparent symptoms that could have aided in a diagnosis
Significant or permanent disfigurement
Ignoring visible signs that point toward an infection following surgery
Not providing the proper follow-up care
Unwillingness to look over a given history or not getting a proper medical history to help  in a diagnosis
Ignoring significant fluctuations in the vital signs
Improper reading of image or blood test results
Sending the patient home too soon
Not taking the time to explain the side effects of a medication or procedure
Not ordering standard diagnostic tests
Giving a diagnosis that doesn't match the symptoms
Medication errors: prescribing the wrong medicine or dosage; ordering the improper dose of a medication
Suggesting a different reasonable treatment that wouldn't treat the ailment
Forgetting to retrieve all surgical equipment after a surgical procedure
Ignoring questions from the patient or not listening well enough to provide a proper answer
Not monitoring the patient under anesthesia or administering the wrong kind
Delaying diagnosis, which led to a decline in patient prognosis
Errors during the operation: operation on the wrong part of the body; accidentally cutting an artery or vein that wasn't related to the surgery
Ignoring or turning off alarm signals so no one would hear them
Issues during pregnancy or delivery injured the child or mother
These are only some of the reasons people start a legal case for medical malpractice. There are many more situations that fall under the category of medical malpractice. If you believe that you've suffered an injury due to the negligence of a medical practitioner, give Truskett a call, and we'll go over your case with you. We can help you determine what type of file to claim and the best course of legal action.
Documentation for Your Attorney
If you decide to file a medical malpractice case, you and your lawyer will gather information as evidence. For example:
Medical Records
Documentation from After the Injury
Eyewitness Accounts
Photography and Video Evidence
Test Results
Statements from Medical Professionals: Cause, Treatment, and Severity
Death Certificate and Medical Examiners Report if Applicable
Personal Injury
A personal injury case is a civil lawsuit that allows you to pursue compensation for another party's negligence. Your lawyer needs to prove the other person's action or inaction that lead to your personal injury. Even though there's a difference between a medical malpractice claim and a personal injury claim, both may be a result of another party's negligence. From a car accident to an unintentional fall, most personal injury attorneys can help you to file a wide range of personal injury cases.
If you've been injured in an accident and have suffered a personal injury, talk to your Tulsa personal injury lawyer about ways to seek compensation. Truskett can meet with you for a consultation. We'll help you gather the necessary court documents, investigate your case, help you with a settlement, or legally represent you for your personal injury trial.
Tulsa Truskett Lawyers
Truskett has over a decade of experience in personal injury law exclusively. We're Tulsa's number one rated personal injury lawyer on Google reviews! Our team is dependable, reliable, and always accessible to our clients. As our client, you're our top priority. We make ourselves readily available for when you need us. We're always honest with you, whether good or bad. We work for you and dedicate ourselves to you. We'll take the time to ensure that you feel as prepared as possible and that you have a complete understanding of your rights. Truskett helps to provide clarity for your decisions and simplify the process. In addition, we can help to give you peace of mind through personal injury education!
Truskett understands the importance of the trust you put into your personal injury attorney. That's why we take representing you and your case very seriously. We believe you have the right to a full recovery and that it's worth fighting for.
We understand how traumatically a personal injury accident can affect a person for the rest of their life. From something as tragic as the loss of a loved one to something as simple as an unintentional fall, we handle various personal injuries. We can help to answer any questions you have regarding your case. Give us a call, and we'll be happy to schedule a free case evaluation!
Don't risk it. Call Truskett.