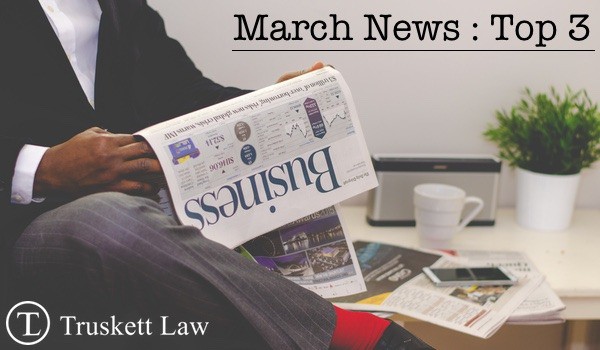 31 Mar

March News: Top 3

Staying up to date with what's going on in your community and nation is important; but keeping up with the many events that happen each week, much less each day, is nearly impossible.

Educating yourself on the current events going on around you can save time and keep you safe. However, staying on top of an endless news cycle is not something many people have time for.

Because of this, we've put together an overview of the top three news stories for this month:

A $10.25 million verdict rendered Monday in the Elliott Williams federal civil rights trial should serve as a "wakeup call" for the Tulsa County Sheriff's Office and its former sheriff, an attorney for Williams' estate said.

Williams was naked and paralyzed when he died on the floor in a cell in the Tulsa Jail's medical unit on Oct. 27, 2011, following a six-day stay. An autopsy report found that Williams died from complications of a broken neck and exhibited signs of dehydration.

Williams arrived at the jail on Oct. 21, 2011, following an altercation with Owasso police. According to testimony and court records, Williams suffered a "mental breakdown" stemming from his separation from his wife and his mother's cancer diagnosis.

Police initially booked Williams into the Owasso Jail but soon transferred him to the county lockup in Tulsa; rather than undergoing the jail's screening process or a mental health assessment, however, Williams was placed in a holding cell because he had been "acting up," Glanz previously testified.

A woman who was killed when she was run over by a Tulsa police car last weekend can be seen in newly released dash camera video. The woman is pointing a gun at officers and gunshots are heard,  prior to her death.

The video with the best view of the incident was edited prior to release and is slowed at points when Dickson is in frame. A red circle is sometimes drawn around her right hand, which is holding a gun.

In the video, Dickson appears running; she turns her torso toward the approaching police cruiser and points the gun toward the vehicle. The officer in the vehicle drives toward Dickson, who still has the gun in her hand and appears to be yelling as she runs on the sidewalk. Moments after that, the vehicle strikes Dickson, and she can be seen falling and going beneath the hood. The officer, identified as Jonathan Grafton, stops his vehicle.

Grafton, who has been with the Tulsa Police Department for six years, remains on paid administrative leave pending the investigation of his use of deadly force, Officer Leland Ashley said.
3. 

Supreme Court Rejects Former Oklahoma Attorney General's Pot ballot Rewrite
The Oklahoma Supreme Court has rejected a proposed rewrite of a ballot question on medical marijuana that was submitted by the state Attorney General's office.
In a 7-1 ruling on Monday, the state's highest court rejected the proposed rewrite that supporters of the medical marijuana initiative had argued was intentionally misleading and could confuse people into thinking they were voting to fully legalize marijuana.
Under the ruling, the original ballot language drafted by the marijuana supporters will appear on the ballot. Supporters of medical marijuana gathered enough signatures from registered voters last year to have the proposal appear on the ballot in November 2018.
Truskett Law is committed to keeping our community safe and healthy. If you or a loved one has been injured in a car wreck, we are here to help. We give free consultations for injuries, car wrecks, and wrongful deaths.
Give us a call at (918) 392-5444