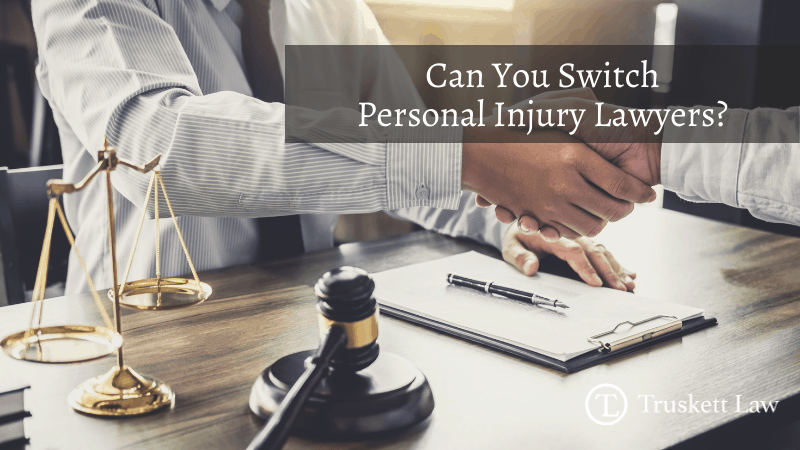 12 May

Can You Switch Personal Injury Lawyers?
What You Should Know About Switching Personal Injury Lawyers
When you pursue a personal injury lawsuit, you'll most likely seek legal counsel from a personal injury attorney. But what happens if you want to change personal injury lawyers? When you hire a personal injury lawyer, you're putting a lot of trust into someone else's hands. Therefore, you must find someone you believe will work on your behalf to pursue the justice and compensation you deserve. But what happens if you are unsatisfied with your personal injury lawyer? There can be several reasons to want to switch personal injury lawyers, but the big question is, can you? Truskett Law's personal injury attorneys are here to break down the reasons why you may want to switch lawyers and whether or not you can.
So, can you switch your personal injury attorney? Yes, you can change personal injury lawyers in most cases. You always have the right to choose the legal representation who will advocate for you. Even if you decide in the middle of your case that you want to switch lawyers, you can get a new one. You can usually change lawyers at any stage during your case. 
Reasons You May Consider Switching Lawyers
Here are a few of the various reasons you may consider switching attorneys:
The relationship between you and your lawyer is poor.
You have lost faith in your attorney's abilities.
You don't trust your lawyer.
Your attorney doesn't communicate well or return your emails or phone calls.
There hasn't been sufficient progress in your case.
There is a lack of communication about your lawyer's plan or strategy to win your case.
If you've found evidence or you believe there is a conflict of interest.
You question the attorney's ethics or judgment.
Switching to a new lawyer may give you the confidence you need to see your case through to the end. Legal matters are often draining to most people, and having a negative experience with your attorney can cause you to lose confidence that you'll see the end of your legal case.
Things to Consider Before Switching Lawyers
Before you decide to switch to a new attorney, you may want to be aware of a few things. When you're dealing with legal matters, finances are often a common concern. Generally, when you switch lawyers, it doesn't cost you anything. If a lawyer tries to trap you into staying with them by saying that you'll accrue additional fees to switch, that may not be true.
You may be required to pay what is due for how much they worked on your case, but you can ask for a second opinion from another lawyer if you're feeling pressured into paying more legal fees. It may not cost you anything to switch to a new lawyer to get the best case results!
Hiring a new attorney will also require you to bring your new lawyer up to speed on your case. This could cause you to spend an unnecessary amount of time and money to catch them up to speed in the middle of your case. If you can, you may try to resolve any issues with your current attorney.
If it seems unresolvable, then it may be time to find new legal representation. Even if you aren't sure you want to switch to a new lawyer, you can always get a second opinion. Often, people will choose the first lawyer they are introduced to. When you get a second opinion from a second attorney, you can compare the two and determine if the attorney you've hired is the appropriate representation for your case.
Finding the Best Replacement
After you decide that you want to switch to a new lawyer, it's time for you to start searching. First, you'll want to make sure that you conduct an in-depth search into the likely candidates you consider. Ask friends and family for recommendations, search lawyer directories, read reviews, go through a referral service, and review lawyer websites. When you talk to people you know, be sure to ask them why they recommend them. Are they a reputable attorney with successes in securing compensation or settlement for their clients? How much experience do they have with similar cases to yours?
You'll want to find a well-trusted lawyer to represent your personal injury case. That's why it's crucial that you "interview" the likely attorneys you're considering switching to. The process of getting to know who will be legally representing you is essential. When you meet with a lawyer for a consultation, it's an opportunity for you to ask just as many questions and see how well of a "fit" that attorney is for you and your case.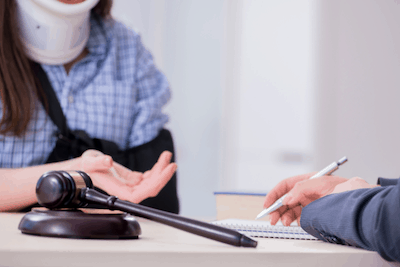 If possible, it's best to visit the attorney in person when getting to know them. Here is a list of some questions you should ask when meeting with a personal injury lawyer about switching:
Have you handled cases similar to mine?
What is your track record with these types of cases?
How much is my case worth?
How long do you think it will take to make a settlement or know when my case may go to trial?
Can I settle early? Will settling early affect my case's worth?
Which lawyer at your firm will be responsible for my case?
If I need to speak with someone about my case, how long would it take for me to reach them?
If you can read any reviews about the lawyers and the firm, you should take the opportunity to see how they've treated their previous clients. Testimonials are great for getting a feel for the lawyers and how you'll be treated. If they have a website, be sure to visit it before you decide to meet with them.
Switching During Your Case
Switching lawyers during your case should not hinder you. Here are a few tips on how to change your attorney during mid-case:
Step 1: Before you decide to fire your current lawyer, you should line up the next attorney to take over your case. This will help your case not to be delayed or dismissed because crucial deadlines would be missed while you were searching for new legal representation.
Step 2: If you have not already, sign a retainer agreement with your current lawyer. This form will give the new lawyer the legal right to represent you.
Step 3: The new lawyer you are switching to will have a form called "Consent to Change Attorney," which tells the court that you've switched attorneys.
Step 4: On top of the "Consent to Change Attorney" form, your new lawyer will also prepare a "stop work" letter to send to your previous lawyer. This will instruct your previous attorney to stop working on your case and forward any case files to the new lawyer.
Switch to Truskett Law!
If you're considering switching to a different lawyer for your personal injury case, consider Truskett Law! We have over a decade of experience exclusively in personal injury law. We are Tulsa's number one rated personal injury lawyer on Google reviews. Our team is reliable, dependable, and always accessible to our clients. We're always honest with you, whether it's good or bad. Truskett Law set ourselves apathy by the care we have for you and your case. We work for you and dedicate ourselves to your case.
Truskett understands that trust is a valuable foundation for a client-attorney relationship. We know that you put your case and essentially your future into the hands of your lawyer. That's why we take your decision to hire us to legally represent you seriously. We're dedicated to providing our clients with honest and fair representation, and we aren't afraid to litigate on your behalf. We believe that your right to full recovery is worth fighting for.
As our client, you are our highest priority. We know how frustrating a lack of communication can be. That's why we put you at the forefront of what we do. We make ourselves readily available for when you need us, and we strive to serve you to the best of our ability. We also take the time to ensure that you feel as prepared as possible and that you understand and know your rights. Truskett helps simplify the process, provide clarity for your decisions, and give you peace of mind through personal injury education.
Truskett understands how a personal injury accident can affect a person for the rest of their life. From the loss of a loved one to medical expenses, there are ongoing repercussions. We handle cases from motor vehicle accidents to unintentional falls and many cases in between. If you have questions about what kind of cases we cover, give us a call––even if you just want a second opinion! We'd be happy to schedule a free case evaluation and discuss you switching to working with a Truskett attorney.
Don't risk it. Call Truskett.