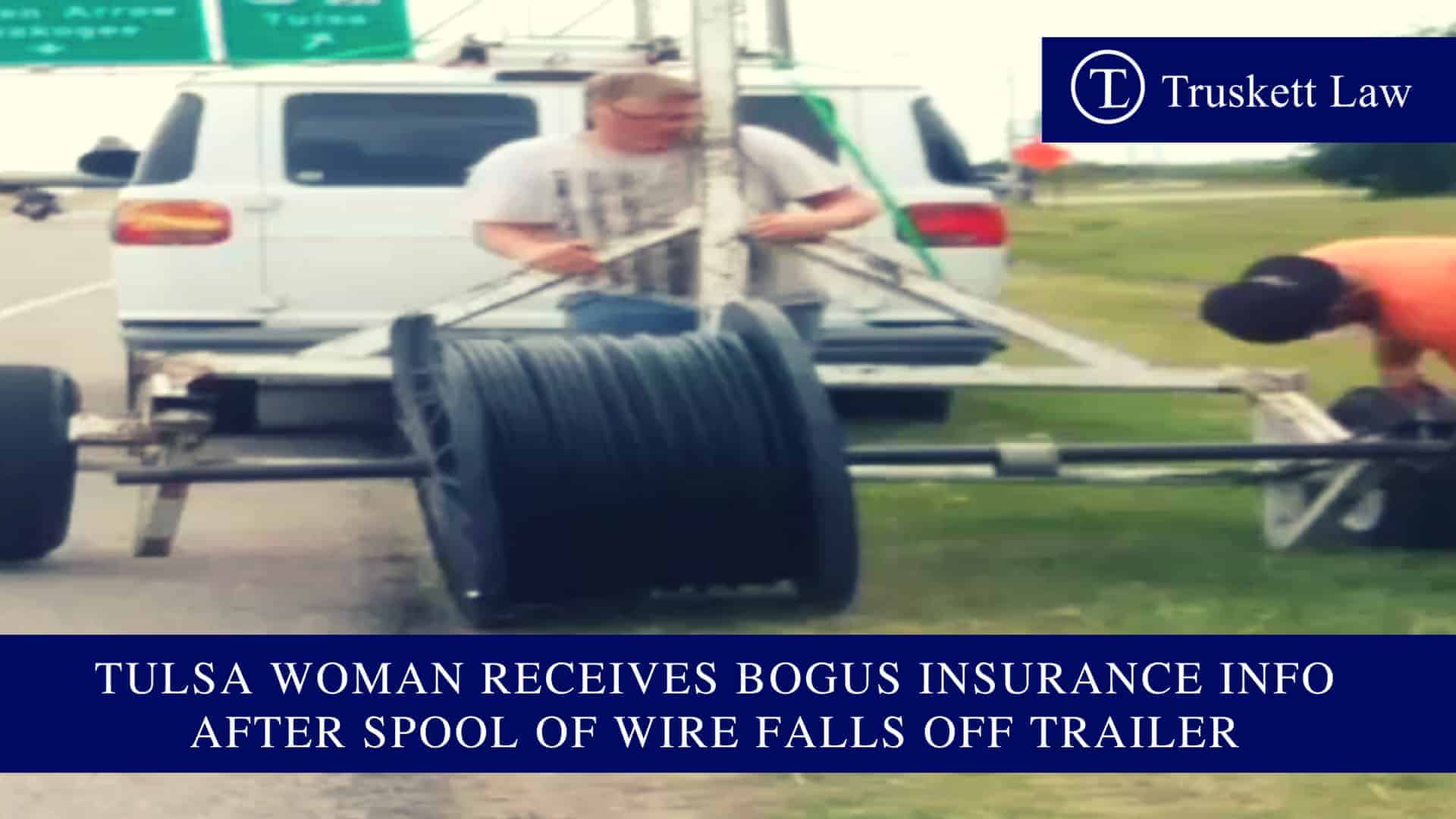 21 Jun

Bogus Insurance Information Leaves Tulsa Woman Without Help After Crash
Lucky, or Not so Lucky?
Susan Scroggins is lucky she wasn't seriously hurt. But that's where the luck ends. Her car was struck by a large spool of wire on I-44. She was driving home from work and had several people in the car with her.
The spool was attached to a trailer pulled by some kind of service truck. But apparently, it wasn't properly attached, because it fell off as the truck traveled down the westbound lane of I-44. And it came straight for Susan Scroggins' car.
A Dangerous Situation
"My first initial thought was oh my god am I gonna die," said Susan. "I looked to make sure there wasn't nobody else on the side that I could hit trying to get out the way of the big spool thing but it still hit."
Scroggins maneuvered to try and avoid the massive spool, but couldn't get out of the way. After the collision, the driver of the truck stopped. "They got out real concerned and everything and nobody was bleeding or nothing like that so, I was like we can just exchange information"
Bogus Information
But later, when she tried to make a claim, she discovered the insurance information was fake. Her insurance company told her the policy number the driver had supplied did not exist. "I had no reason to believe they were lying to me," Scroggins said. But it seems that's exactly what they did.
Getting Her Life Back on Track
Scroggins says she's thankful that her car was not more seriously damaged. And she's glad no one was seriously hurt. However, Susan did hit her head on the window and has medical bills as a result. So she really wishes the driver would come forward.
"I'm working trying to get my life back on track. I don't have money to repair things and pay for these medical bills" said Susan.
Car Wreck Law Firm
At Truskett Law Firm, we believe in accountability. People and companies should take responsibility for their actions. We are experts at making sure that is what happens.
If you've been hurt or suffered a loss due to no fault of your own, please call us today. Your call and consultation are always free. After an auto accident, don't risk it, Call Truskett at (918) 392-5444.