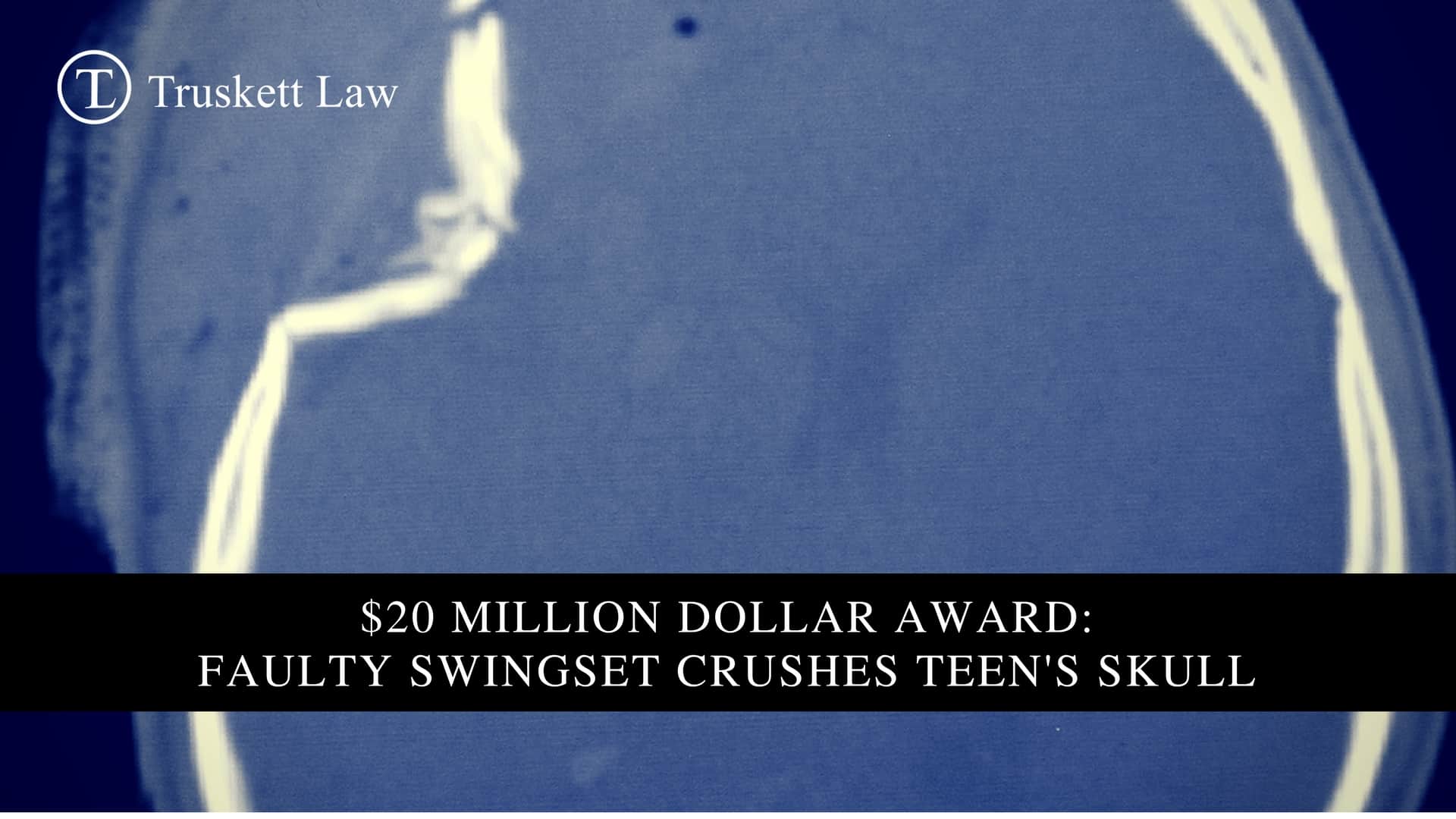 13 Apr

$20 Million Dollar Award: Faulty Swingset Crushes Teen's Skull
Taking Safety Seriously
We all have to take our responsibilities seriously. And if we don't, it can cost us. Sadly, it can also cost others. A Homeowner's association in Nevada found that out the hard way. $20 million later, they won't take safety lightly anymore.
An Association's Negligence
They were warned about the swingset in their playground. It needed repair. But they did nothing. Tragically, this negligence resulted in a crushed skull for one teen. The victim also suffered severe skull deformity and permanent brain damage.
The screws that held the swingset's crossbar had become worn. As time went on, they became more and more unstable. Eventually, the bar began to rotate as the swings pulled it back and forth. The friction caused by this rotation actually began to "saw" the cross-bar loose.
A Tragic Injury
A local teen was using the swingset, enjoying time outside one day. The crossbar finally gave out. The 42-pound metal bar came crashing down onto the teen's head. The impact crushed the skull and caused permanent bone and brain injury.
But this tragedy could have been avoided. And it should have been avoided. The HOA was warned on multiple occasions that the swingset was unsafe. It was recommended that they implement a repair and inspection plan. There was no plan in place to ensure their playground's continued safety.
The Cost of Negligence
The Homeowner's Association chose to ignore these recommendations. And to ignore the safety of neighborhood children. Their negligence directly violated the HOA's own rules. But not only that, it violated the manufacturer's warranty, as well as Nevada Law.
The cost of maintaining the playground equipment would have been as little as $150 per month. But now the HOA has been hit with a huge lawsuit. But the worst part is the knowledge that they could have so easily prevented the teen's injuries and suffering.
A $20 million Verdict after a $2 million offer.
The $20 million award was ten times what the Defense was willing to offer. After closing arguments, Defense and Plaintiff's council met for final settlement negotiations. The largest amount the Defense was willing to offer was $2 million. This may illustrate that the Defense attorneys did not take the case seriously enough. It's certain that their clients did not take safety seriously enough.
Tulsa Personal Injury Law
At Truskett Law in Tulsa, Oklahoma, we take safety seriously. And we take accountability seriously. If you've been injured and it's not your fault, call us today at (918) 392-5444. Your call and consultation are free and confidential.